Posted 1:31pm Monday 16th August 2021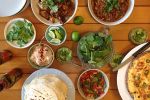 The arrival of the chain store Taco Bell to North Dunedin may give small businesses an opportunity to attract more customers, says Burger Plant owner Tom White. Global franchise Taco Bell was recently announced to be opening a store in Dunedin in the former site of Couplands in North Dunedin. The Read more...
Posted 12:40am Sunday 11th April 2021
Paddy Patterns are just a pair of gals who make the loveliest handmade clothes (mostly tops) from funky, retro, preloved materials. Emily and Allie, both students at Otago, are the big brains behind Paddy Patterns. "We've been friends since year seven. We started making some very Read more...
Showing results 1 - 2 of 2
Sunaina Born
Radio One News Reporter