Posted 2:20pm Sunday 8th May 2022 by Nina Brown
The old Unipol weights room on Anzac Ave has been transformed into a sustainability hub for students by the Sustainability Office and their team of tetekura (student leaders), including Maddy, Lizzy, Gerry, Annabelle, John and Jesikah (office team lead). Already open Tuesdays and Thursdays 11-1pm, Read more...
Posted 5:45pm Friday 1st April 2022 by Denzel Chung
A new club at Otago Uni wants to raise awareness about how food choices can make a big difference to our planet and our pockets. Their priorities include encouraging students to forage, compost, and stop throwing out so much food. According to their blurb, Slow Food Youth Otago (SFYO) is a Read more...
Posted 5:20pm Sunday 27th March 2022 by Zak Rudin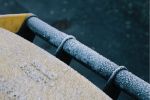 Serial recyclers and plastic bag stockpilers, rejoice: soft plastics can now be recycled in Dunedin again. They'll be collected from New World, Countdown and The Warehouse stores, and trucked up north to be turned into fence posts. Up until 2017, our soft plastic was shipped overseas Read more...
Posted 1:38pm Sunday 20th March 2022 by Denzel Chung
The Government has introduced plans for a "Container Return Scheme". In simple terms, this means taking your bottles, cans and cartons in for recycling could soon earn you sweet, sweet cash. Last week, the Ministry for the Environment dropped a consultation document titled Read more...
Posted 3:02pm Sunday 28th March 2021 by Asia Martusia King
It's hard to recycle in the city, according to concerns raised by students. Residents flatting in the CBD and George Street's retail district do not have access to kerbside recycling. The Dunedin City Council has implemented three $80,000 neighbourhood recycling drop-off Read more...
Posted 10:42am Sunday 26th February 2017 by Anna Linton
A collaborative recycling initiative between the Dunedin City Council and Campus Watch, overseen by the Proctor, will mark an overhaul in how glass and rubbish are dealt with in North Dunedin. Street cleaning, extra blue glass recycling bins and skips in North Dunedin, every Friday of February Read more...
Showing results 1 - 6 of 6
TAGGED ITEMS
Showing items with the tag:
recycling