Posted 2:41pm Sunday 27th February 2022 by Sean Gourley
Some alcohol companies who have been unofficial sponsors of student flat parties have not been fined, but appear to have received a very stern talking to by the Proctor and the Police. According to the Proctor's disciplinary report for 2021, some "alcohol manufacturers were Read more...
Posted 2:43pm Sunday 27th February 2022 by Denzel Chung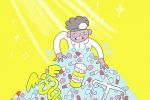 It was no coincidence. In a bid to end "antisocial behaviour" on Health Sci Friday, the Proctor worked together with Uni management to shift Health Sci exam dates last year. This attempt to minimise partying worked about as well as you would expect. With the final HSFY exam for Read more...
Posted 2:50pm Sunday 9th May 2021 by Fox Meyer
OUSA pointed out a fuckton of problems with the proposed changes to the Code of Conduct in a 20-page submission to the University. The Uni is updating its Code of Conduct and received public submissions on the proposal until 7 May. The very first thing that the Exec said in their submission Read more...
Posted 3:41pm Sunday 2nd May 2021 by Erin Gourley
Yeah, that's right, I'm the Proctor and I will impose a daily fine on you if you don't clean up the rubbish and broken glass outside your flat. That's what could happen if you don't submit against the University's proposed changes to the Code of Conduct. Read more...
Posted 5:13pm Saturday 6th March 2021 by Callan George
There was a "small spike in egg sales" during O Week, thanks to the long-held tradition of egging freshers. A Countdown spokesperson said that they saw "a small spike in egg sales at our Dunedin stores over Orientation Week". However, they encourage people to think Read more...
Posted 8:34pm Tuesday 2nd March 2021 by Erin Gourley
Two flats of students are unable to attend Otago in semester one because of flat initiations they organised at the end of 2020. The Proctor's 2020 Discipline Report sets out the details of these initiations and the punishments students received. One flat initiation involved four second year Read more...
Posted 10:24am Sunday 10th July 2016 by Joe Higham
After his predecessor was in the job for a brief four months, Dave Scott was appointed as his replacement, a job he considers a "once in a lifetime opportunity." Despite there being a host of similarities between his previous role in the police force and his new role, he told Critic that Read more...
Posted 4:53pm Sunday 4th March 2012 by
Dear Critic – I headed down to Castle street last weekend, and needless to say, shit was pretty loose down there. I noticed that Campus Watch and the cops were all over the place! What's up with those guys? What do I need to watch out for being the unassuming young blood that I am? – Troubled Read more...
Showing results 1 - 8 of 8
TAGGED ITEMS
Showing items with the tag:
proctor