Posted 2:31pm Friday 11th June 2021
From 11 June to 20 June, the Screaming Rooster will play host to something a bit different. Aquanauts, a pop-up art exhibition about the history of diving, has been set up by eight Communication Design students from Otago Polytech. Rosa Nevison, Hanna Anstiss, Emily Bell, Emily Montgomery, Read more...
Posted 1:47pm Friday 11th June 2021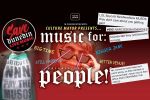 A very public falling-out between a venue owner and a local artist on Facebook has seen Starters stepping up to the plate to save the Music for the People gig, which is taking place this weekend. Person Will, Music for the People's organiser, put New New New founder Ian McKinlay on blast in Read more...
Posted 4:52pm Wednesday 9th June 2021
Shosha has started selling cream canisters again, after removing the product from their shelves on 16 May due to concerns about recreational use. The vape store has put measures in place to make sure that their customers are using them for "hospitality/baking/catering purposes" Read more...
Posted 5:33pm Tuesday 8th June 2021
70 students showed up to the University Council meeting today in protest of raising international student fees, but the University Council voted to raise the fees anyway. The Council will raise the fees in a new way. For international students returning to Otago, their fees will be Read more...
Posted 8:31pm Sunday 30th May 2021
I was fresh. Fresh to death some would say, and on my own in London. And when left alone in a new city in a different country, with extremely limited resources, what is one to do? Explore your sexuality with strangers! Luckily a strange and suspiciously handsome man was willing to oblige. Read more...
Posted 8:26pm Sunday 30th May 2021
The rumours are true. A Critical Tribune investigation has found that the child of an actual, actively practicing medical doctor is doing health sci at Otago this year. The child, which the Tribune has chosen not to name in order to preserve their privacy, said that until recently, she had Read more...
Posted 8:25pm Sunday 30th May 2021
Who says landlords are pure evil? While some of our more extremist writers like to push this sensationalist, one-sided argument, in the pursuit of fairness and balance, the Tribune can EXCLUSIVELY reveal a landlord branded as "evil" and "fraudulent" actually has a real heart Read more...
Posted 8:20pm Sunday 30th May 2021
Time to Potluck I take potlucks so seriously that I do fear that I suck the fun and joy out of the process for everyone else. Tiramisu is the ultimate potluck meal. It is sweet, when most people bring savoury. You can make it in advance. You keep it in the fridge and don't need to bake or Read more...
Posted 8:18pm Sunday 30th May 2021
Feeling drained, literally, by my Fizzliss experience last week, I decided to fortify my strength by returning to my origins: Beer. I went into Henry's and picked up something called "Vailima." The name alone intrigued me. Just in time for Samoan language week, I learned that Read more...
Posted 8:12pm Sunday 30th May 2021
Rate Olivia Rodrigo's entire new album being about her shitbag ex. Favourite Crime hits very diff. Name and shame baby x J Lo getting back with her ex after almost my entire lifetime. Usually I would never encourage that but it's actually quite a beautiful love story. The Read more...
Showing results 1 - 10 of 9076

Previous Results
Next Results