Posted 2:25pm Sunday 18th July 2021 by Denzel Chung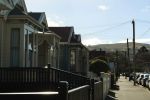 A North Dunedin landlord discovered damage to a flat during last year's lockdown and unsuccessfully took the tenants to the Tenancy Tribunal for $1800. The tenants, who were granted name suppression by the Tribunal, were not even at the flat at the time of the damage. The landlord Read more...
Posted 5:25pm Tuesday 2nd March 2021 by Sean Gourley
Otago University Student's Association (OUSA) is converting the space above University Book Shop, on Great King Street, into six separate apartments. A resource consent from the DCC showed that OUSA will build three two-bedroom apartments and three one-bedroom apartments in the space. Read more...
Posted 10:52am Sunday 24th September 2017 by Joe Higham
Results of a survey released by the New Zealand Property Investors Federation (NZPIF) showed that as many as 74 percent of the 800 landlords surveyed would increase rents if Labour wins the election and implements its housing policies. With Critic's publication and distribution dates Read more...
Posted 10:23am Sunday 19th March 2017 by Joel MacManus
The Tenancy Tribunal has ruled several North Dunedin landlords have been requiring tenants to sign illegal fixed term contracts before granting them residence in studio rooms or boarding houses. The practice is believed to be widespread in Dunedin, and according to a Critic investigation, may be Read more...
Showing results 1 - 4 of 4
TAGGED ITEMS
Showing items with the tag:
landlords