Posted 12:55am Monday 9th August 2021 by Denzel Chung
Otago University, along with two researchers responsible for the DentalSlim Diet Control Device, holds shares in the company holding the global patent for the DentalSlim mouth-clamp. The device uses magnets to clamp a patient's jaw shut. It is designed to help weight-loss efforts. It Read more...
Posted 1:15pm Tuesday 13th July 2021 by Asia Martusia King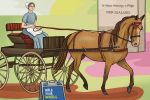 I have always admired the Amish. When I made bread in lockdown, it ignited a pastoral flame within my loins. I began to dream of sheep and buggies, of giant beards and shucking corn. With these scenes of a simple life in mind, I decided to try following the Ordnung — the set of rules for Amish Read more...
Posted 9:57pm Saturday 6th March 2021 by Sean Gourley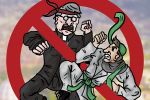 FM Radio is like your mate's parents who you didn't realise are quite Christian until you started talking about strip clubs in front of them: easy to get along with until Jesus enters the picture. For a bit of a project in O Week, I forced myself to listen to our country's most Read more...
Showing results 1 - 3 of 3
TAGGED ITEMS
Showing items with the tag:
experiment