Posted 9:05am Sunday 10th October 2021 by Denzel Chung
The one and only Mr Whippy has hit the streets of Dunedin. They launched with a bang on Saturday, giving out 600 free soft-serves in The Octagon. The Dunedin business is owned by husband and wife team Steve and Linda Mitchell, who also operate Mr Whippy vans in Central Otago. "We've Read more...
Posted 9:33am Sunday 10th October 2021 by Annabelle Vaughan
Shit towns are the pride of our nation. For those of you who aren't familiar with the concept of a "shit town", it's a town where literally everything is shit. But visiting a shit town is a cultural experience to find out how the other half live, so it's a must Read more...
Posted 3:32pm Sunday 26th September 2021 by Denzel Chung
Covid restrictions have been putting Dunedin's live musicians under pressure, needing to adjust to a new normal of small gigs, even tighter finances, and lots more time spent online. Critic Te Arohi spoke to local musicians Boaz Anema and Zi Shaw, as well as sound engineer and music scene Read more...
Posted 3:41pm Sunday 26th September 2021 by Annabelle Vaughan
Isaac Chadwick is a new creative who has recently launched onto the Dunedin scene. He is an aspiring filmmaker, session musician and surfer who is successfully moulding all of his interests into artistic projects. Critic sat down to chat with him on his new projects and what it's like being a Read more...
Posted 1:39pm Monday 16th August 2021 by Asia Martusia King
If you can't jump into paintings, that's embarrassing for you. I do it all the time. One day, my hubris will get the better of me and I will be trapped in one forever. If I get to choose which painting that is, it'll be one of these. I've excluded any landscape paintings of Read more...
Posted 2:00am Monday 9th August 2021 by Fox Meyer
Well, here we are. DSC won Critic's inaugural Bar Bracket. We started this bracket because we thought DSC's third-place ranking by our staff was too high, and now it has come out on top. Democracy doesn't always lead to the results you want. The bracket system and bar selection Read more...
Posted 5:44pm Sunday 25th July 2021 by Sean Gourley
Image credit: Rosa Nevison Rezzy Crooks are now one of the OG bands on the Dunedin scene well established by many a pint night. There are four members Sam, Jamie, Toby and Josh in a classic two guitar, bass, and drums set-up. We checked in with them to see what it takes to make it to the Read more...
Posted 5:41pm Sunday 25th July 2021 by Runze Liu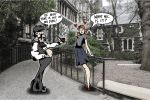 The lads and lasses of Dunedin have a few tricks up their sleeves when it comes to dating and hookups. But how did students do it back in the day, before the technological lubrication of Tinder and Snapchat? Critic did a deep dive into old school dating, circa the 1800s, and here's what we Read more...
Posted 11:12am Tuesday 13th July 2021 by Quintin Jane
Traffic was almost 50% up on State Highway One as students poured in for the start of the term. Radio One reported that 8,068 vehicles sputtered along SH1 by Kilmog Hill on Friday the 19th of February, the day before O Week began at the start of the year. This is 43% higher than the 2020 Read more...
Posted 1:23pm Tuesday 13th July 2021 by Daniel Fitzpatrick
Ah, shitposting. Nothing compares to opening Facebook and seeing a low quality attempt at humour brightening up your newsfeed. Dunedin is fortunate to be home to a number of shitposting pages, each varying in size, audience, genre, and quality. Some of Dunedin's most iconic Read more...
Showing results 1 - 10 of 92

Previous Results
Next Results

TAGGED ITEMS
Showing items with the tag:
dunedin