Posted 2:34am Sunday 8th May 2022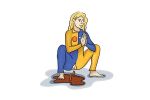 Castle Street residents have been confronted with the emergence of human shits on their cars and driveways. Little is known about the identity of the culprit(s), or their motive. The first incident occurred on Saturday 10 April, on what had been a seemingly normal night of debauchery on Read more...
Posted 2:31am Sunday 8th May 2022
The Covid-19 pandemic, the fast pace of uni life and a lack of a Fine Arts programme at Otago Uni are all challenges for Arts students here. Despite these barriers, the Otago University Art Club continues to make space for creative expression and facilitate connection through art. The club Read more...
Showing results 1 - 2 of 2
Anna Robertshawe
Contributor