Posted 12:51am Monday 19th April 2021
Dunedin was largely planned out by settlers that were probably way too deep on Scotch and Irn-Bru. In that state, they thought that a street with a 35% incline would be a funny meme. They literally tried to superimpose Edinburgh onto the Otago landscape, stubbornly ignoring all of the hills that Read more...
Posted 12:10am Sunday 11th April 2021
It's August 2018. You're in Year 13. You're covered in pimples, you don't know how to blowdry your hair, and your fashion sense is what can only be described as preppy-grunge. Your on-and-off high school girlfriend has just broken up with you because you had a Skype call with Read more...
Posted 4:16pm Sunday 28th March 2021
Friends, it's time to see some wildlife other than the stray cats on Leith Street and the cockroaches in your bathroom. Leave North Dunedin, and experience the natural world at its finest. Even David Attenborough reckons you should. We are surrounded by some incredible ecosystems in Read more...
Posted 1:27pm Sunday 21st March 2021
The Dark Web The Deep Web, whilst sounding like a 2005 sci-fi hacker fantasy realm, actually just refers to anything on the internet that won't directly show up when you search on a search engine like Google. This includes anything from your email homepage, to your Netflix homepage, Read more...
Posted 1:29pm Sunday 14th March 2021
1. How old are you? a. A literal baby (1) b. A teenager (2) c. Early 20s Read more...
Posted 11:42pm Saturday 13th March 2021
It's easy to think that the future is already fucked. Activists of New Zealand past have lived and died fighting for nuclear disarmament, environmental protections, and the return of stolen land to tangata whenua, fed up by the unjust world they saw around them. But we still face apocalyptic Read more...
Posted 10:21pm Saturday 6th March 2021
The first question Critic asked Sam, as we sat down for an interview in the sun, was how The Bacchae is pronounced. The answer, apparently, is 'back-eye.' The play is an ancient Athenian tragedy written by Euripedes, reimagined for a modern audience by a local team led by Read more...
Posted 8:35pm Saturday 6th March 2021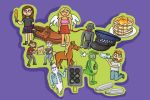 Flo Week and O Week felt more like Slo Week this year. But that's okay, because people change, and so do annually held fortnight-long parties. The idea of Flo and O Week is that second and third years can revel in nightly parties free of freshers. However, this year's Read more...
Posted 6:09pm Saturday 6th March 2021
Data from Regent St Night 'n Day suggests students absolutely frothed $2 Hot Dogs during O Week. On the Tuesdays of Flo and O Week, Night 'n Day sold over 600 hot dogs. During Slo Week (a term Critic has coined for the week before O and Flo Week), Night 'n Day Regent sold an Read more...
Posted 10:37pm Tuesday 2nd March 2021
From deliveries to dismissals, dibbly-dobblers to golden ducks, cricket is an elaborate and perplexing way to waste your time. There are a lot of made-up words involved, like 'inning' and 'wicket' and 'dilscoop.' Aside from white men over the age of 50 and people Read more...
Showing results 41 - 50 of 52
Elliot Weir
Features Editor