Posted 10:04pm Thursday 3rd October 2019
111, one drug pls!!! Landlords when tenants complain about poor insulation. Fucking millennials and their new "only looking at the ground" trend. This is hopefully the first and last time the word "Lawrence" and Read more...
Posted 11:32pm Sunday 29th September 2019
Oh no, not the eels! Without an eel population to keep them in check, the caterpillar community is thriving. The title does not stipulate whether this revenge will take place on the courts, or on the streets. Then the ODT made the biggest mistake of Read more...
Posted 5:09pm Sunday 22nd September 2019
The ODT came out this week with some very bold claims. The ODT have clearly never seen an episode of Ihor Macijiwsky's Canadian reality television series Mantracker. Or gotten their period after having unprotected sex. Next up, the ODT was back it with one of their classic Read more...
Posted 1:03am Friday 13th September 2019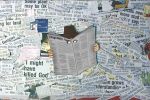 Let's start this week with a classic ol' ODT pun Yeah it's about a toilet that's doing well. How did you guess? Then ODT hit us hard with the facts We move on to my favourite section of the ODT, the "Ask a Read more...
Posted 10:17pm Sunday 8th September 2019
University of Otago Marine Biology postgraduates have reportedly been working on a classified project involving local seal populations. Seems seals struggle to save sufficient serotonin to cite circumspection. After weeks of lying to himself about Read more...
Posted 5:26pm Sunday 1st September 2019
This week the ODT had a series of ethical dilemmas. First, the age old question: And then an enigma for the modern age, Always go potatoes. Property is nothing but trouble. The ODT have a brave new marketing strategy… The ODT are notorious for being Read more...
Posted 8:18pm Saturday 17th August 2019
This week the ODT have some hard-hitting questions Yes. Next, Winston Peters' mother has something to fucking say "No one apart from my son, Winston S. Peters, should be allowed to vote." Winston was later heard saying, "Shuduuuup Mum, Read more...
Posted 2:49pm Monday 12th August 2019
This week, the ODT is reporting on a miraculous occurrence. "MAGIC'S NOT REAL." I cried into my pillow, insanely jealous. The ODT have been getting really into classic children's film Monsters Inc. (2001), directed by Pete Docter.Rude. Mike Wazowski is a Read more...
Posted 5:20pm Friday 19th July 2019
1. You see the tiny beast, and are in immediate mourning for your genitalia 2. He puts it in and your worst fears are confirmed. 3. After a few thrusts, you're warming up to the action, maybe there's potential Read more...
Posted 12:36am Friday 12th July 2019
This week someone let the ODT read the thesaurus again… Then a sage warning about an upcoming crisis: We should all be mindful of World Juggling Day, specifically mindful of how to end this pagan sacrilege once and for all. We Read more...
Showing results 1 - 10 of 20

Previous Results
Next Results

R. RY, Bachelor of Arts
Bazza