Posted 10:46pm Thursday 23rd May 2019
Put that thing back where it came from or so help me. Honestly? The ODT has published a lot of filth but this takes the cake. The only kind of sex that should be promoted in any piece of media is vanilla missionary sex that lasts for 30 seconds. We bet you Read more...
Posted 12:55am Friday 17th May 2019
Fresh from the writer's festival, the ODT debuts their newest all-ages educational column, 'Things That Can Go In Airplanes'. They've been freeloading in good, wholesome, capitalist Earth for too long. It has Read more...
Posted 9:57pm Thursday 2nd May 2019
This week the ODT brings us some wisdom: A little-known Shakespeare fact is that "meteor" is slang for vagina. And the real meteors are the friends you make along the way. The balance of the universe is Read more...
Posted 2:06am Friday 26th April 2019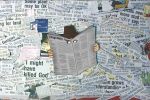 This week the ODT are being heartbreakingly self-aware. For some reason, there was a lot of feet related content this week. Really? Because when I walked into the polling booth on my hands and picked up the pen with my prehensile toes, they called me an Read more...
Posted 1:55am Friday 12th April 2019
This week, the Otago Daily Times came to the ground-breaking discovery that and ODT Watch is sure there's no old men at the ODT. In other news: But still not confident enough to make the first move. Get it together, Simon. She's waiting for Read more...
Posted 3:06am Friday 5th April 2019
This week, the Otago Daily Times set out on a good old-fashioned road trip. What could they have discovered? The solitary traffic light in Kaitangata? The shed in Milton that has a smiley face with a ballsack for a nose? The gay nightlife of Gore? Hell. I'm in Hell. At least Read more...
Posted 12:42pm Monday 1st April 2019
And most of them work at the ODT!! Bazinga!!! The award for the juiciest piece of low-hanging fruit this week goes to: Don't tell me what to do, Read more...
Posted 8:06pm Thursday 14th March 2019
It's another week of ODT Watch. You know what that means: This week the ODT perfectly captured my feelings about the ODT: Although the flourishing doesn't seem to apply to their journalists' bedrooms: Surely this could have been phrased Read more...
Posted 6:46pm Thursday 7th March 2019
Every week before I open, with trembling hands, the hallowed pages of the ODT I say to myself, "Don't get your hopes up, Bazza. There's no way they can come up with a better pun than they did last week. Even genius stoops to mediocrity now and then". But every week I dare to Read more...
Posted 9:27pm Thursday 28th February 2019
Having barely got to grips with the internal combustion engine, perhaps it was a bit much to expect the ODT to seamlessly handle the transition into a more citrusy zeitgeist: Then again, I don't read the ODT for their bleeding edge journalism. If I want Read more...
Showing results 11 - 20 of 20

Previous Results
Next Results

R. RY, Bachelor of Arts
Bazza