Posted 6:31pm Thursday 26th July 2018
Flatmate violence is being treated as less serious than family or domestic violence by the police and the courts, despite there being no legal difference, according to lawyers at Community Law Otago. According to Caryl O'Connor, Managing Solicitor of Community Law Otago, the courts are Read more...
Posted 6:28pm Thursday 26th July 2018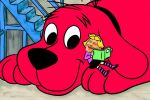 EDITORIAL: Clifford the Big Red Dog is my absolute number one favourite after-school children's cartoon TV show of the early 2000s. I would even make the bold call of arguing that it was better than the books. For one, Clifford could talk in the TV series, meaning he actually had a Read more...
Posted 7:24pm Thursday 19th July 2018
Editorial: We're getting to that time of year where everyone is starting to think about next year's flatting. That is, unless you're an idiot fresher who signed a flat in April, paid way too much, and have already had a falling out with the former "best Read more...
Posted 7:11pm Thursday 19th July 2018
Sushi Station The rice ball was warm. Weird. While abnormal for sushi, it was not altogether unpleasant. It's also a sign that they were probably very freshly made and didn't have time to cool down, so that's a good thing. The rice was a flavour explosion, and it was Read more...
Posted 7:02pm Thursday 12th July 2018
EDITORIAL: It's a new semester in the wonderful world of North D. The clouds are out, the frost is on the ground, and the rain glitters on the footpath. All is good in our peaceful corner of the world. The new semester also brings with it a fresh batch of exchange students to Read more...
Posted 6:25pm Thursday 12th July 2018
In a move that shocked the world to its core, the latest OUSA exec reports were even more boring than first semester. So instead of covering the reports, we're just going to give you a general update on how the exec are doing based on our half-awake observations. Caitlin Read more...
Posted 10:14pm Thursday 5th July 2018
While we were away, Otago University Professor Neil Gemmell spent most of June searching through the depths of Loch Ness looking for evidence of a monster. I'm going to take a wild punt here and say he didn't find one. While he was doing this, the University's Read more...
Posted 10:02pm Thursday 5th July 2018
Second year Selwyn College students secretly voted on and publically awarded a prize for the fresher girl with the "Best Rack," among other derogatory awards. Monica Nelson, who was given the award in 2014, described it as "sexist and bullying". The tradition was part of Read more...
Posted 9:57pm Thursday 5th July 2018
Our intrepid reporters put their lives on the line to bring you cutting edge reviews of the eateries that Dunedin's Health Inspectors have deemed least safe for human consumption. Doughbin – The Bin This place is weird. As a bakery/Japanese restaurant, The Bin is Read more...
Posted 9:50pm Thursday 5th July 2018
EDITORIAL: Hola! Welcome back to Dunners for another semester. It's cold as fuck, so remember it's perfectly OK to wear a puffer jacket to town. I wish I had some fun news to yarn about, but unfortunately our news team is just too damn hard-hitting. Blame Charlie Read more...
Showing results 31 - 40 of 192
Joel MacManus
2018 Editor