Posted 1:32am Friday 21st September 2018
A Leith Street flat says University Proctor Dave Scott trespassed and stole their property when he entered their house while they were out and took several bongs/water pipes. About three weeks ago, the Proctor was visiting flats on Castle Street and Leith Street North to deliver letters about Read more...
Posted 8:46pm Thursday 20th September 2018
EDITORIAL: If you were at all of the OUSA election debates (lol don't worry, I know you weren't), you may have noticed something: with the exception of the President's Debate at UBar, no one showed up. To put things in perspective: the Thursday night President's Read more...
Posted 3:30pm Friday 14th September 2018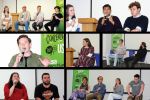 Finance Bonnie Harrison and Norhan El Sanjak Norhan didn't show up because she hadn't finished her family file, so this was just a weird one-on-one interview. Bonnie has a very good speaking voice. She thinks the finance officer doesn't need that much financial Read more...
Posted 3:05pm Friday 14th September 2018
OUSA desperately needs a President and an executive that are willing to actually start a fight with the University. We need to demand change, not suck up and beg for it. In the last couple of decades, OUSA made a big effort to professionalise and pretend that they're big important grownups, Read more...
Posted 3:04pm Friday 14th September 2018
She's graced the cover of New Zealand's best dog-related student magazine, and now her fame has got her out of trouble with the law. Maya, the beautiful border collie – husky cross that graced the cover of GOODBOY magazine (better known as the Critic Dogs Issue), Read more...
Posted 2:02pm Friday 14th September 2018
Editorial: Firstly, welcome to the Drugs Issue, our biggest issue of the year. The print run this week is 6,000 copies, that's up from just over 3,000 at the start of the year, so a massive thank you to all you wonderful people for being bored enough to pick up a Critic. It's Read more...
Posted 11:26pm Thursday 6th September 2018
This is weird. No one saw this coming. Out of nowhere, the annual OUSA CV-padding elections have actually produced a really, really fucking good presidential race. And best of all, there're no fucking tickets, so we can actually have a contest of ideas instead of just a bunch of cliques in Read more...
Posted 11:21pm Thursday 6th September 2018
University Proctor Dave Scott is investigating allegations of Campus Watch harassment, after a student posted a video of his interaction with officers online. Malcolm Moncreif-Spittle, an alt-right activist, had been putting up posters promoting a far-right Youtuber. The previous week, as Read more...
Posted 9:58pm Thursday 6th September 2018
EDITORIAL: A couple of years ago, I lived on Hyde Street. There was a flat on the street that was apparently connected to the Mongrel Mob. There were a bunch of high school cunts that would always show up on Saturdays looking for a fight. There were drunk randoms constantly trying to crash Read more...
Posted 11:27pm Thursday 30th August 2018
The DCC spent just $3,181 on promotion and events for Kendrick Lamar's Dunedin concert, compared to $221,000 for Ed Sheeran's three concerts, according to details released to Critic under the Local Government Official Information and Meetings Act (LGOIMA – it sounds gross if you Read more...
Showing results 11 - 20 of 192
Joel MacManus
2018 Editor