Posted 2:14pm Sunday 6th September 2015
The theme of travel appropriately moves beyond the Dunedin Public Art Gallery down the road to the Alternative Space Gallery on Lower Stuart Street, where Alex Lovell-Smith's … Travelling Alone, Sir … is currently on display. Alternative Space Gallery is an initiative where Read more...
Posted 2:06pm Sunday 6th September 2015
Collection exhibitions can sometimes feel like a cop out, but if you have a collection why not play with it and put it on show? Following a theme of travel, the works in Wanderings shake off any gathered dust with their depictions of afar, of the other-worldly and of returning home after the Read more...
Posted 1:47pm Sunday 16th August 2015
"My mum knew I'd be fucked if I did anything else," Josh said when I asked him why he went to art school. Enamoured of popular culture, Americana, comics and tattoos, Josh Hunter and Jessie Lee Robertson aren't quite like the art school graduates I typically encounter, but Read more...
Posted 12:36pm Sunday 2nd August 2015
Fluke is a veteran Montreal graffiti artist who set up the graffiti company, A'Shop, in Montreal, Canada, in 2009. A'Shop supports artists in Montreal, setting the professional standard for artists and clients alike. OUSA has recently flown him to Dunedin and is commissioning him, along Read more...
Posted 1:06pm Sunday 19th July 2015
Artists: Georgette Brown, Wendelien Bakker, Anna Rankin, Sam Norton, Virginia Overell and Holly Childs. Curated by: Georgina Watson Seeking out the vital bodies in the current Blue Oyster show curated by Georgina Watson is an experience that crosses the disciplines of writing, Read more...
Posted 1:21pm Sunday 12th July 2015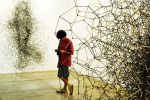 Art galleries are my sanctuaries. They are perfect places for quiet reflection and interesting interactions with created pieces or performances. However, I do have my off days. These are the kind of days where the sky seems an extra, disturbing tint of yellow or when it feels like everyone in the Read more...
Posted 1:04pm Sunday 5th July 2015
Fresh and Fruity is not just a gallery space up the stairs at 140 George Street - it is also a social media endeavour with its own manifesto. Critic interviewed two members of the collective who run Fresh and Fruity, Hana Aoake and Mya Middleton, to hear more about the project. What is Read more...
Posted 12:42pm Sunday 24th May 2015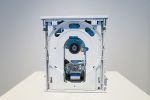 Blue Oyster Art Project Space has been simultaneously stripped back and expanded for Luke Munn's swfer. One wall in the front room simply has the link "i-chat.mobi/" placed in cursive lettering onto its wall. In the same room, different — seemingly meaningless — letters Read more...
Posted 12:26pm Sunday 24th May 2015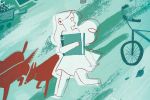 Loulou takes us through her experience of living in Beijing on a university exchange, highlighting the cultural differences she experienced and the surreal nature of living somewhere utterly unfamiliar. Colin rolled his shirt sleeve up to reveal a barb-wired swastika with "Sons of Read more...
Posted 1:01pm Sunday 17th May 2015
In symbolic flashes of red, white and blue, Private Utopia spreads across the first floor of the Dunedin Public Art Gallery, providing an extensive, in parts overwhelming, display of British contemporary art. Given its scale and diversity of subjects and form, wandering through the show involves Read more...
Showing results 1 - 10 of 74

Previous Results
Next Results

Loulou Callister-Baker
Culture Editor 2015