A crowd of around 50, including Ukrainians, Russians and others, amassed in the lower Octagon on the 26th to peacefully protest Russian aggression against Ukraine. An anti-mandate convoy passed through at the same time, providing a backdrop of honking, yelling and loud music.
The group gathered in response to Russia's invasion of Ukraine, which had been announced by Russian President Vladimir Putin just 3 days prior. "We want the world to help us stop Putin, because it could be World War 3 if we do not do something," said a Ukrainian national at the protest. "Since 2014 Russia has annexed Crimea and occupied a part of Eastern Ukraine. Now, it's a genocide."
Among the protesters were Russian nationals who strongly opposed Putin's "authoritarian, dictatorial" invasion. "In my opinion the current Russian government is totally illegitimate and it doesn't represent the majority of Russia's view," said Elle, a politics PhD student and Russian national. "The majority of people are against the war, but the protests [in Russia] are heavily suppressed - people are risking their lives and health and they're put to jail."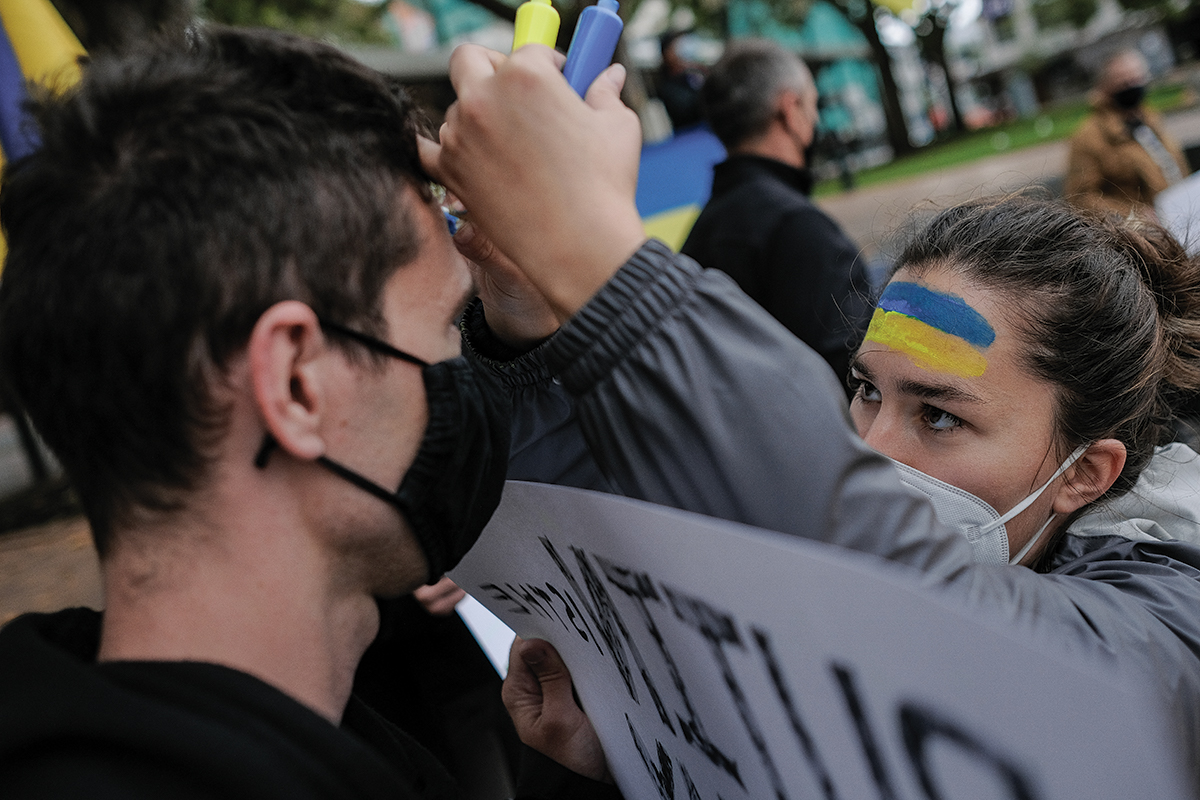 The protesters included students who, though having no direct personal connection to the Ukrainian invasion, felt strongly enough to protest. Rose, a 23 year old student, told Critic Te Arohi that she was there, because "I never thought I would see in my lifetime this kind of imperialism, with one country taking over another just for the sake of it. It's pretty shocking."
The sombre mood at the protest, though, was marred by an anti-mandate convoy passing through the Octagon at the same time. As horns honked, "Let It Be" blared through speakers and children yelled "Vaccine mandates are apartheid!" through megaphones. A sign was quickly fashioned reading: "Worry about the war in NZ."
One anti-mandate protester told Critic Te Arohi that it was "interesting" the anti-war protest was held at the same time as the convoy was due: "We came because we were expecting a counter-protest. We didn't expect this." We don't think Ukrainians expected Russia to invade their homeland either, but there you go. Another confidently affirmed that "Putin's kind of on our side," claiming the real targets of the Russian invasion were "American bioweapons factories" - claims that other anti-mandate protesters openly side-eyed.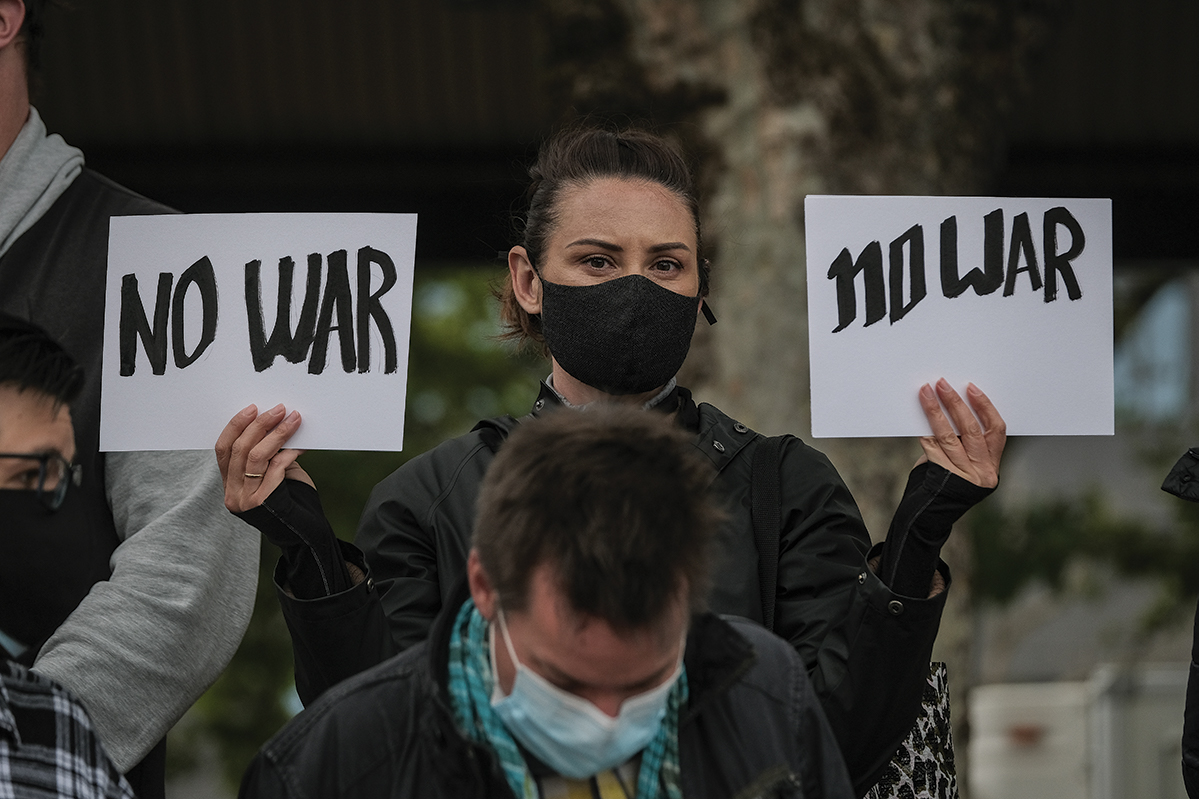 The anti-war protesters were not impressed. "We are both wanting freedom, but our freedom is very different to theirs," said Elle. Neither were some passers-by in the Octagon: one group we spoke to called them "fuckwits" and "disrespectful as hell", saying "at least [the anti-war protesters] are protesting something important".
Asked about whether there would be a peaceful resolution to the conflict, most were pessimistic. "There is no way for diplomacy; we have to fight," said one Ukrainian woman. "Older people and people with small children have attempted to evacuate but most Ukrainians decided to fight - they are fighting for freedom and sovereignty. Probably all my friends in Ukraine are fighting."
In a joint statement, the National Centre for Peace and Conflict Studies (NCPACS) and the NCPACS Student Association condemned the Russian invasion, saying "there is never any excuse for such acts of aggression." However, they also acknowledged "many Russian people are risking themselves to express their opposition to this war," and rejected the "narrative of 'East vs. West' that is being manipulated and used to fuel this invasion and violence".
"We cannot afford to send would-be aggressors the message that we will turn a blind eye to violence as long as it does not affect 'our' patch and pockets. And neither should we only protect wealthy or resource-rich nations. Peace must belong to all people, not only to those who have something to offer us."
If you want to provide individual support for the Ukrainian crisis, global humanitarian groups such as World Vision, UNICEF and Doctors Without Borders are currently providing support on the ground, along with local NGOs including Red Cross Ukraine, Nova Ukraine (humanitarian aid), Voices of Children (trauma counselling) and Sunflower of Peace (paramedic supplies).