Archive
Posted 11:32am Thursday 27th January 2022 by Denzel Chung
Student Health Services are preparing for a community outbreak of Omicron by moving away from in-person appointments, warning that wait times may increase due to a lack of backup clinical staff. To minimise the risk of staff and patients contracting Covid-19, under the Red traffic Read more...
Posted 12:48pm Wednesday 13th October 2021 by Denzel Chung
Phantom Billstickers, the street poster company, is offering Aotearoa's bands and live performers free posters to promote their gigs post Covid-19. In a press release, Phantom stated that it "wants to see live performances roaring back once Covid restrictions end. So Read more...
Posted 9:12am Sunday 10th October 2021 by Erin Gourley
"My life involves lots of different worlds," says Melissa Lama. "There's the Pacific community, I'm a mum, there's student politics, and I study. I do it to myself but I wouldn't change it, it's who I am." Melissa is your 2022 OUSA President. Read more...
Posted 9:10am Sunday 10th October 2021 by Erin Gourley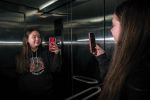 After a year as President and a year as Welfare and Equity Representative, Michaela Waite-Harvey is moving on to bigger and better things next year. Like "just studying" at Otago, instead of being a student politician. "I'm not going to completely excommunicate myself from Read more...
Posted 9:05am Sunday 10th October 2021 by Denzel Chung
The one and only Mr Whippy has hit the streets of Dunedin. They launched with a bang on Saturday, giving out 600 free soft-serves in The Octagon. The Dunedin business is owned by husband and wife team Steve and Linda Mitchell, who also operate Mr Whippy vans in Central Otago. "We've Read more...
Posted 9:01am Sunday 10th October 2021 by Denzel Chung
A strange poem fixating on the arms of Olympic kayaker Lisa Carrington has been popping up on posters around Dunedin in the last week. The poem, "Lisa's Arms," reads best aloud. Here it is: I want her arms. Imagine lying in those arms. Lisa's Read more...
Posted 8:58am Sunday 10th October 2021 by Alex Leckie-Zaharic
A technical report from July detailed that there is dangerous asbestos in some of the University's heaters. The original heaters were removed, but many still operate in other buildings. The University did not respond in time for comment on this article. After hearing about asbestos in the Read more...
Posted 8:55am Sunday 10th October 2021 by Asia Martusia King
The elusive Chatime, which has been edging students with its fabled branch in the Link since early this year, has said that it will finally open this October. The store, based on walk-bys by Critic staff, now looks pretty well set-up. They even have fake plants above the booths and a Read more...
Posted 8:48am Sunday 10th October 2021 by Denzel Chung
Students voted to reject only one proposal in the recent OUSA referendum: calling for an Exec member to be dedicated to distance and overseas students. Over 100 pages of comments were also submitted by students, including one student who repeatedly posted the Bee Movie script as their comment for Read more...
Posted 8:47am Sunday 10th October 2021 by Elliot Weir
Three weeks ago, we reported on widespread employment law breaches and sexual harassment amongst kitchen staff at University-managed halls of residence kitchens. Some staff then requested the mandated shift breaks that we outlined in the piece and were misled by management. When staff in one hall Read more...

Previous Results
Next Results

SHOW: