Archive
Posted 1:20am Friday 12th April 2019 by Phillip Plant
Despite the tragic events of the Christchurch shootings happening the same day, the 2019 second year Law Camp went smoothly, said students. Camp leaders were informed of the Christchurch shootings when the second years arrived at Starters Bar to be transported to the Wairoa Scout Camp, putting a Read more...
Posted 1:18am Friday 12th April 2019 by Charlie OíMannin
OUSA Finance Officer Bonnie Harrison has proven that she will stop at nothing to get students enrolled to vote in the upcoming Dunedin City Council elections, going so far as to ambush people with voting papers while they're lining up to get their tickets for Hyde. Desperate to understand Read more...
Posted 1:14am Friday 12th April 2019 by Charlie OíMannin
Honestly, when we first brainstormed the cover for the Sex Issue, we were thinking of having only five or six people. I thought most of them would have to be people I knew who would be fine getting naked. But I put out the call on Facebook anyway, just in case. My inbox was immediately flooded Read more...
Posted 1:14am Friday 12th April 2019 by Sinead Gill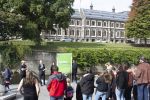 On Thursday, April 11, almost 800 kilometres from Parliament steps, OUSA marched a group of students and staff from the Union Lawn to the Leith steps across from the Clocktower. There, almost fifty people rallied for the return of Student Allowances for postgrads in sync with those who turned up in Read more...
Posted 1:11am Friday 12th April 2019 by Esme Hall
CONTENT WARNING: rape, sexual assault, sexual harassment Multiple survivors of sexual violence from Knox College reached out to Critic since our last story, and their experiences show the University of Otago's sexual misconduct procedures were not applied consistently Read more...
Posted 12:59am Friday 12th April 2019 by Staff Reporter
Last week, Critic speculated what the second floor of the University Book Shop could be developed into now that it is owned by OUSA. This week, someone has answered our prayers. This Wednesday, 17 April, at midday in the Main Common Room, students will be able to vote on whether or not they want Read more...
Posted 7:18pm Thursday 11th April 2019 by Critic
A tonne of milk in Otago Business School: $5,800 per year Have you ever walked past a fridge and decided to take a sneak peek inside? That's what Critic did in-between lectures in the Business School. To this reporter's shock it was completely packed with upward of a dozen two-litre Read more...
Posted 6:19pm Thursday 11th April 2019 by Esme Hall
Are you sitting there wondering why we haven't reported very much on this year's OUSA Exec? Yeah, thought not. But, for the three of you who actually care, it's because they're being so nice to each other there's no juicy drama to report. The apparent harmony of the Read more...
Posted 6:18pm Thursday 11th April 2019 by Zayna Lam
Pasifika people are Aotearoa's fourth largest ethnic population, 66% of whom are born in Aotearoa and over 50% are under 25. This growing population has, and will continue to have, an increasing presence in tertiary institutions. Education for Pasifika people is a priority area of work for the Read more...
Posted 6:16pm Thursday 11th April 2019 by Jack Manning
The last few weeks, our Facebook feeds have been filled with posts from UoO: Meaningful Confessions about the Critic Knox article. We've seen people defending the college, apologising on its behalf, and denouncing traditions and managerial problems that would allow sexual assaults to occur and Read more...

Previous Results
Next Results

SHOW: