I was searching for inspiration for this week's column, and so I delved into last year's work. Boy oh boy did I find a goodie, with claims that Pep Guardiola, the new Manchester City manager, was making the English Premier League look easy. He was undoubtedly doing so at the time, but the danger of such bold claims is that one can be made to look naïve and foolish as the season advances.
Here we find ourselves, 27 games into the 38 game season, and an intriguing table has developed. After a record-breaking disappointment of a title defence last season saw Chelsea finish 10th, 31 points behind fairytale winners Leicester, they are now 7 points clear of second placed Tottenham (with a game in hand at the time of writing). The real point of interest is now the race for the remaining three spots in the top four, which brings qualification for Europe's prestigious Champions League. It's a five-horse race, with the table as follows:
With no European football for anyone but the two Manchester teams, this puts Tottenham, Liverpool and Arsenal at a strong advantage. Moreover, Liverpool only play one top ten team (Southampton) in their last eight games; but they're Liverpool and I hate them, so they aren't making it.
Harry Kane has found the form that put him on the map as one of the stars of the league, and has been scoring for fun. However, they have Arsenal and Manchester United in the last four game-weeks of the season, and these could well be the slip-ups that cost them. Besides, they're terrible in European competition, so a spot definitely shouldn't be wasted on them.
Thus leaving us with my predicted top 4: Chelsea, Manchester City, Manchester United and Arsenal. Manchester City have come back strongly from their mid-season struggles under Guardiola, and the young German talent Leroy Sane is beginning to show just why he has such high acclamations from English and German press alike. Yaya Toure has returned to the mercurial talent who took the Premier League by storm upon his arrival; while his fellow contenders for best Manchester City player of all-time, David Silva and Sergio Aguero, have finally become agreeable to Pep's no cellphones in the changing room policy. Aguero's strike this morning against Sunderland may well be the catalyst for the perennial Fantasy Football favourite to motor on to greater things. Expect them to finish the job against Monaco in Europe this week and take on the Champions League quarterfinals. If their talisman, Kevin De Bruyne, finds his shooting boots, they've a good chance of surprising the masses and going far.
Manchester United look to be finally becoming accustomed to Jose Mourinho's ideology. 35-year-old Zlatan Ibrahimovic has been the poster-boy, still scoring for fun at an age where most are happier watching football on TV. He has 26 goals so far this season for United, and there are no signs of slowing down. The much underpraised Ecuadorian, Antonio Valencia, is having a superb season at right back, and is a major component of this United team along with the attacking trident behind Zlatan of Mkhitaryan, Pogba and Martial. As is tradition with Jose, expect Untied to finish in the top four this season, before advancing to being fully-fledged contenders for the gong next. There are strong rumours of French superstar Antoine Griezmann joining his compatriot Paul Pogba at Old Trafford, and this will be the major transfer story of the English summer.
Now we reach Arsenal. French mastermind manager Arsene Wenger looks to be in his final season, and will be seeking a stylish finish, by again providing the London fans with European football. As has become custom, Alexis Sanchez, the Chilean dynamo, will do everything in his power to get the job done. Boy have they missed Santi Cazorla. With the top four established, we turn to the tragedy that is the relegation zone.
Here's how it stands: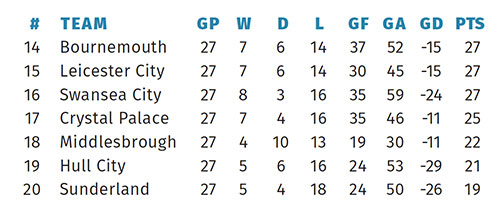 Any of these teams could still easily go down. First, I have to discount Bournemouth. Eddie Howe has taken them all the way from League Two of English football to the Premier League, and they play very aesthetically pleasing football. With a capacity of roughly 11,000, they have a tiny stadium at Dean Court by Premier League standings. With Tottenham, Liverpool and Chelsea still on the agenda, they have a tricky run-in, but they have the personnel and style to get through.
Leicester have topped Chelsea's aforementioned nightmare follow-up, but following the sacking of Ranieri, folklore legend Jamie Vardy looks like a new man. Having come up through the divisions like Howe and Leicester, he's the man for a dogfight and will ease them to safety.
Sunderland are as good as gone, under infamous ex-United manager David Moyes, while Hull aren't looking worth putting your TAB savings on. It will then be the battle of the Spanish strikers, Fernando Llorente and Alvaro Negredo, at Swansea and Middleborough, to determine the final dropper. For my money, 'Boro' are heading back down right after rising.
For what it's worth, here are my awards so far:
BEST MANAGER:
Antonio Conte has swept aside the plethora of top-tier managers (Guardiola, Mourinho, Klopp, Wenger, Pochettino) to steer Chelsea to what now seems an inevitable title.
BEST GOALKEEPER:
Tom Heaton, the Manchester United youth product, has had an outstanding season in goal for Burnley, who are surprising many folk in 11th.
BEST DEFENDER:
While David Luiz and Cesar Azpilicueta have been outstanding for Chelsea, along with Virgil Van Dijk for Southampton, I'll go with the exciting option of Michael Keane at Burnley. Come back to Manchester, Michael.
BEST MIDFIELDER:
N'Golo Kanté without a shadow of a doubt. The man with three lungs was crucial for Leicester and has been again for Chelsea.
BEST FORWARD:
Costa, Zlatan, Kane, Lukaku. Take your pick. Costa edges it for me since he's getting a winner's medal.