Sports
Posted 2:26pm Sunday 12th May 2013 by Sam McChesney
The big news in sport over the last week has been the retirement of Sir Alex Ferguson, the manager of Manchester United. We've been here before – Ferguson announced his retirement at the start of 2002 only to perform a U-turn at the end of the season – but this time it's for realsies. Ferguson's Read more...
Posted 4:00pm Sunday 5th May 2013 by Gus Gawn
Team Otago reclaimed the University Shield at the Uni Games held in Dunedin two weeks ago. Otago boasted the largest team at the 2013 event with 142 competitors, and made their numerical advantage count by collecting the most points and taking out the shield. Prior to the games it had been Read more...
Posted 3:14pm Sunday 28th April 2013 by Zane Pocock
The University of Otago has won the Best University Shield by a significant margin over Canterbury at the 2013 Uni Games. Otago teams also won the Badminton, Netball and Touch Rugby finals. The other winners were Massey Albany in Basketball, Auckland University in Men's Hockey, AUT in Women's Read more...
Posted 5:49pm Sunday 14th April 2013 by Gus Gawn
The celebration is one of my favourite parts of sport. It serves so many purposes: an outpouring of raw emotion; a message to your opponent or the crowd; a "look at me" moment especially for the cameras; or pure relief. The days of manners and sportsmanship limiting celebration to a nod and a Read more...
Posted 4:40pm Sunday 7th April 2013 by Gus Gawn
This report on the All Whites' match with New Caledonia the other day is in two parts. The first involves me complaining about why the match was so disappointing. The second is a collection of quotes that I jotted down from the students behind me who used me as a shield so they could drink their Read more...
Posted 4:40pm Sunday 7th April 2013 by Gus Gawn
Not much about Andrew Whyte would lead you to think that he is one of the fastest men in New Zealand. For a start, he is white. Really white. The kind of white that comes from growing up on a farm in Clinton, Southland rather than the beaches of the Caribbean. He is also not particularly Read more...
Posted 6:30pm Sunday 24th March 2013 by John Burton
Remember last year? When the London Olympics were on? Or even three years ago, when the Rowing World Champs were hosted up in the North Island? Well you should. Let's face it, when it comes to sports we as a nation rely heavily on pieces of equipment to compete. Usually a boat. I had the pleasure of Read more...
Posted 6:30pm Sunday 24th March 2013 by Gus Gawn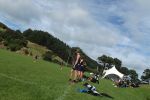 The Uni Games are returning to the University of Otago in 2013. The annual inter-university sporting contest has been on the decline in recent years, but this year OUSA will manage a pared-back event in Dunedin from 22-24 April 2013. OUSA Exec member and Recreation Officer Blake Luff said: "The Read more...
Posted 5:43pm Sunday 17th March 2013 by Gus Gawn
The first Test Match between New Zealand and England at the University Oval ended in a dour draw. Day one was rained out and while England's batsmen made a valiant effort to set up a result by throwing their wickets away on day two, their sacrifices were to no avail. New Zealand fans could have Read more...
Posted 5:43pm Sunday 17th March 2013 by Angus Grayson
As far as extreme sports go, underwater hockey, also known as "Aqua Challenge," will not be at the X Games anytime soon. Often ridiculed for being a hobby and not a sport, Aqua Challenge is frowned upon by most mainstream athletes. However, fourth-year student Louise Daley has managed to push past Read more...
Showing results 1 - 10 of 74

Previous Results
Next Results

EDITOR'S PICKS
Psycho Nerd Goes on One-Man Killstreak

An online gamer has tragically turned his fantasy "Guild Wars" game into a real-life "killed wars" game after losing a fantasy battle and allegedly killing his cyber rival.

Lex: Coffee Cowboy

For almost two decades Lex has been making strong, hot coffee at the University of Otago, currently in the East Lane of the Information Services building.

How Wack Is Crack?

Poor, poor methamphetamine. It's the Tourism of the drug world – condemned, stigmatised, and used by the dregs of society.