Posted 1:22pm Sunday 10th April 2022 by The Critical Tribune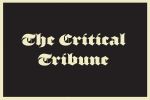 Sources close to the Mayor claim that the attempt to make George Street pedestrianised occurred after a run-in with DCC parking wardens. Mayor Hawkins's close confidants reported that the recent attempts to remove cars from George Street is an attempt to put parking wardens out of a job. Read more...
Posted 2:51pm Sunday 27th February 2022 by Fox Meyer
In less than a week, OUSA has distributed 650 care packages to isolating students across the city. The initiative comes as Omicron rips through the student population in North Dunedin. These packages are being delivered free of charge to students who are isolating. They contain food staples Read more...
Posted 2:47pm Sunday 27th February 2022 by Fox Meyer
Wasp populations are at their yearly high, and students have reported fear, frustration and an "absolute fuck-ton" of the stinging insects around town. Critic Te Arohi reached out to the Zoology Department to get to the bottom of this. The short answer is simple: wasp colonies follow Read more...
Posted 2:41pm Sunday 27th February 2022 by Sean Gourley
Some alcohol companies who have been unofficial sponsors of student flat parties have not been fined, but appear to have received a very stern talking to by the Proctor and the Police. According to the Proctor's disciplinary report for 2021, some "alcohol manufacturers were Read more...
Posted 2:56pm Sunday 27th February 2022 by Denzel Chung, Keegan Wells & Ruby Werry
Flo and O-Weeks were notably quieter this year, with Covid cases on Castle sending a chill through North D's collective spine. Apart from the usual suspects, though, most students seemed to make a reasonable effort at following the rules. Flo saw a sleepy Castle, with few students on the Read more...
Posted 2:43pm Sunday 27th February 2022 by Denzel Chung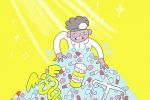 It was no coincidence. In a bid to end "antisocial behaviour" on Health Sci Friday, the Proctor worked together with Uni management to shift Health Sci exam dates last year. This attempt to minimise partying worked about as well as you would expect. With the final HSFY exam for Read more...
Posted 2:33pm Sunday 27th February 2022 by Denzel Chung
For the first time in over 20 years, OUSA's famous $4 lunches will no longer be served by the Hare Krishna community. This is after Jane Beecroft, known as the "lunch lady" of the Hare Krishnas, announced her retirement in February. South Dunedin restaurant Tandooree Read more...
Posted 2:38pm Sunday 27th February 2022 by Ruby Werry
The Uni has made big changes to enhance ID card security in 2022, bringing in a new, "minimalist," overwhelmingly white design. Our informal survey suggested almost everyone hates it - with the notable exception of first-years, who don't know any better. After the Proctor raised Read more...
Posted 2:15pm Saturday 6th March 2021 by Denzel Chung
Your students' association plans to turn the first floor of the University Bookshop into rental accommodation, and past Exec members are not happy about it. Two previous Exec members have questioned why a proposal rejected three times in the last five years was resurrected in Read more...
Showing results 1 - 10 of 725

Previous Results
Next Results

TAGGED ITEMS
Showing items with the tag:
news