The English Premier League has never been short of cash, and it has been flooded with even more money having recently negotiated a record-breaking broadcasting rights deal worth $12 billion over three seasons, far outstripping the previous $2 billion per season agreement. The deal cements the EPL as the world's richest football league.
To put these numbers into perspective, the New Zealand government allocated $12.3 billion for superannuation benefits in the 2015/16 budget. Clearly this is big business for the clubs, and the latest transfer window saw 184 transfers in and 394 transfers out — a net spend of just over $1 billion.
When TV and advertising money is combined with other lucrative sponsorship deals and private investment from playboy billionaires, it is no wonder that the price of player transfers has increased dramatically over recent years. Just as dramatic and bordering on the ridiculous are the players' wage demands, with many players easily negotiating deals worth over $500,000. Not for a year. Not for a month, but for one week! In case you are wondering, half a million dollars a week is about $70,000 a day or $3000 an hour. Studylink chips in $240 a week for me and I consider myself lucky.
The value of players is one thing, but the mechanics of the transfer window itself are just as controversial. The window is open for a month after the season begins. One camp contends that it is ludicrous for teams to start a new season without their players being finalised and that the best players on smaller teams can be poached away with little time to replace them. On the other hand, teams looking to offload certain players like to have a few games in which to showcase their skills — or lack thereof — to potential buyers in a "how much is that doggy in the window" mentality.
With the amount of money involved now, the lines between business and sport are becoming increasingly blurred. We take a look at the biggest deals of the biggest spending spree ever.
Top Transfer Deals
1) Kevin De Bruyne
Wolfsburg to Manchester City — $132 million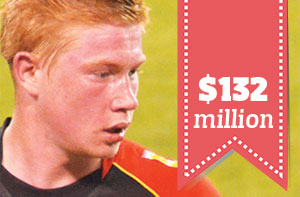 The albino Belgian midfielder was the most expensive signing of the transfer window in a prime example of Chelsea's much-criticised loan/transfer policy. De Bruyne was signed by Chelsea in 2012 from Belgian Pro League club, Genk. Despite spending three years contracted to Chelsea, he made just three appearances for the Blues before being loaned several times, then finally sold to Wolfsburg. He moved to Manchester City for a club record fee, becoming the second-most expensive player in English football history and negotiating a weekly wage reportedly as high $700k, with performance bonuses taken into account.
2) Raheem Sterling
Liverpool to Manchester City — $118 million
After 95 appearances and 18 goals for Liverpool, the 20-year-old England winger joined City after a very public contract dispute that saw him flake on Liverpool's pre-season trip to Asia, citing "illness". A deal was reached after several bids were rejected; Sterling miraculously recovered and quickly linked up with his new club in Melbourne, scoring three minutes into his City debut against Roma. Sterling's "base salary will be a reported $430k per week at City after he rejected a $250k per week deal from Liverpool.
3) Angel Di Maria
Manchester United to PSG — $107 million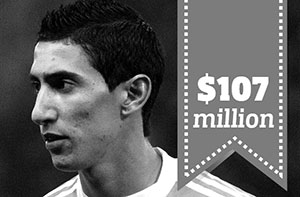 One of the most acrimonious deals of the window ended with Di Maria opting for the more fashionable beaux quartiers of Paris after barely a year in the grey industrial surrounds of Manchester. He failed to front up for United's pre-season trip to the United States, instead jetting to Qatar for negotiations with the French club's billionaire owners. He will have to work hard to prove the critics wrong when they say he couldn't handle the physicality of the Premier League and has stepped down to an "easier" league. Expect a hostile reception for the Argentine if United and PSG get drawn together in the Champions League.
4) Anthony Martial
AS Monaco to Manchester United — $87 million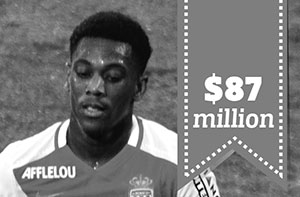 United captain Wayne Rooney had reportedly never heard of the 19-year-old Frenchman before he became the most expensive teenager in history. Criticisms abound of "panic buying" as the deadline day deal was rushed through — Rooney was the only established striker in the squad after other players were sold and loaned out. United don't usually pay over the odds for relatively unproven youngsters, and the already massive fee could rise to £58 million in performance-based add-ons if United win the Premier and Champions leagues.
5) Nicolas Otamendi
Valencia to Manchester City — $79 million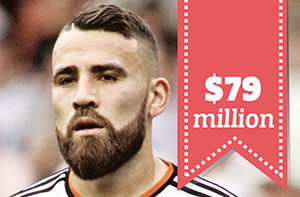 The Argentine defender had been heavily linked with a move to Manchester United, but their "noisy neighbours" City swooped in for the 27-year-old, who was the only Valencia player named in the last season's "La Liga XI". Otamendi was cut from the Argentine squad before the 2014 World Cup, but was welcomed back into the fold for the 2015 Copa América where they finished runners up. He was also named in the Copa's Team of the Tournament.
6) Christian Benteke
Aston Villa to Liverpool — $78 million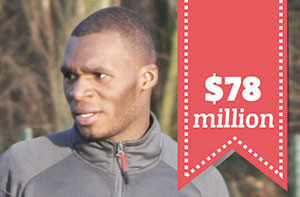 Aston Villa have struggled for goals over the few last seasons, but the Birmingham club has clearly prioritised money in the bank over balls in the back of the net after cashing in on the powerful Belgian striker. Having failed with their punt on Mario Balotelli, Liverpool fans will be hoping that their new No. 9 is the player to plug the hole in their attack following the departures of Suarez, Gerrard and Sterling.
7) Roberto Firmino
Hoffenheim to Liverpool — $70 million
The versatile 23-year-old Brazilian attacking midfielder was a relative unknown to Liverpool fans having spent the last five seasons developing in the much-lauded German football system, which will have set him up well for life in the Premier League. When this is combined with Benteke and several other signings, Brendan Rodgers has now spent £289 million in three years as Liverpool manager and will be desperate for his new-look team to challenge for trophies.
8) Morgan Schneiderlin
Southampton to Manchester United — $60 million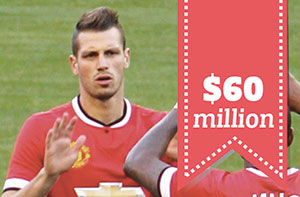 After several impressive seasons with Southampton, it was only a matter of time before the Frenchman was poached by a bigger club. He survived the mass exodus from St Mary's in last year's summer transfer window despite interest from Arsenal. Having come through the lower leagues with Southampton, Schneiderlin arrives at Old Trafford as a battle-hardened defensive midfielder who, with German World Cup winner Bastian Schweinsteiger, forms a solid new "Schmidfield" partnership for the Red Devils.