One of the richest and most talked about sports events ever failed to live up to the hype as Floyd Mayweather bobbed and weaved his way to a points decision victory over Manny Pacquiao in his home turf of Las Vegas. "Money" Mayweather played the swagged-up villain while the "Pacman" was cast as the understated champion of the people. Unfortunately the fight happened about five years too late, but they still earned tens of thousands of dollars for every second they were in the ring — not a bad wage for an illiterate thug and a poor kid from the Philippines.
Here is what people with more Twitter followers than us had to say about it.

Sums up the fight pretty well...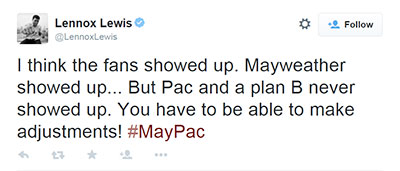 Better to show up with no plan B than show up with Bieber...
We have to go back, Marty!!!
For us in the real world it doesn't work like this...
Lest we forget the real champ...