Posted 3:39pm Sunday 1st August 2021 by Sean Gourley
In a new plan, the Dunedin City Council will divert traffic from the one-way systems and increase pedestrian access to the Uni. According to the DCC, the 'Harbour Arterial Project' should reduce pressure on the one-way systems. A spokesperson said that "as part of the Read more...
Posted 11:09am Tuesday 13th July 2021 by Alex Leckie-Zaharic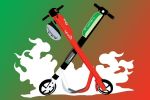 Citing "careful consideration" and the "weighing up [of] many factors", Lime has decided to retreat from Dunedin. But anyone with half a brain knows that the real reason because we threw so many of their scooters in the Leith. Lime is a self-proclaimed "global Read more...
Posted 11:12am Tuesday 13th July 2021 by Quintin Jane
Traffic was almost 50% up on State Highway One as students poured in for the start of the term. Radio One reported that 8,068 vehicles sputtered along SH1 by Kilmog Hill on Friday the 19th of February, the day before O Week began at the start of the year. This is 43% higher than the 2020 Read more...
Posted 5:01pm Saturday 6th March 2021 by Fox Meyer
The DCC will no longer confirm whether students will get an Albany Street pedestrian crossing. Last year, the DCC said it was "likely" in "late 2021." A 2017 poll showed that more students supported the crossing (78.6%) than discounted Lime scooters (68.9%), or even Read more...
Showing results 1 - 4 of 4
TAGGED ITEMS
Showing items with the tag:
transport