Posted 2:02pm Sunday 1st May 2022 by Sean Gourley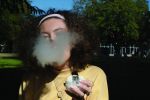 A new vape shop has taken down all of its TikToks after a Stuff investigation found kids under 18 were interacting with their posts, potentially breaching the law as a result. The owners have said they'll be changing their ways from now on, with a removal of most of their posts in a social Read more...
Posted 1:15pm Sunday 13th March 2022 by Annabelle Vaughan
To a passer-by, Elise Maric and Amber Harrison seem like any other Otago University students. And they are. They love hanging out with their friends, partying and going for coffee at one of Dunedin's many cafes, and they also love their astrology (Elise is a Libra and Amber is a Cancer, for Read more...
Showing results 1 - 2 of 2
TAGGED ITEMS
Showing items with the tag:
tiktok