Posted 9:43pm Friday 26th March 2021 by Oscar Francis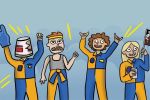 Let's just be clear on one thing: I'm not being anti-rugby. Rugby is a great game. It's something that we orientate our identity around, both as individuals and a nation. Going to the stadium gives a lot of us a feeling of fitting in, and stability in an uncertain Read more...
Posted 2:42pm Sunday 14th March 2021 by Jay Bailey
In the glory of an empty, level-four-lockdown Dunedin, I finally faced my fears and learned how to ride a skateboard. Learning to skate at nineteen years of age may not impress some, but after years of desire, envy, fear, and trepidation, I was thrilled to cruise around the old Coupland's car Read more...
Posted 10:37pm Tuesday 2nd March 2021 by Elliot Weir
From deliveries to dismissals, dibbly-dobblers to golden ducks, cricket is an elaborate and perplexing way to waste your time. There are a lot of made-up words involved, like 'inning' and 'wicket' and 'dilscoop.' Aside from white men over the age of 50 and people Read more...
Showing results 1 - 3 of 3
TAGGED ITEMS
Showing items with the tag:
sport