Posted 3:01am Sunday 8th May 2022
The campus shop is filled with wonders. The ratio of sweets to fizz to pies is usually fantastic. However, there are those items that really make you question what place they have in a campus shop. Fried noodles? What do they expect students to do, munch through a whole bag while studying? The Read more...
Posted 2:43am Sunday 8th May 2022
The first annual Clash of Clubs happened on April 29, with several Otago Uni clubs duking it out in a variety of sports. At stake: honour, glory, and the ability to rub sweet victory into the faces of inferior clubs for a whole year. Six clubs participated in football, volleyball and Read more...
Posted 2:33am Sunday 8th May 2022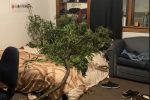 A little over a month ago we reported on a mysterious tree that showed up in a student's bed on a Saturday night. Our crack detective team turned up no leads until the case was blown wide open by an anonymous online confession. Seth reported finding a large tree branch in his bed after a Read more...
Posted 2:19pm Sunday 1st May 2022
'Geoengineering Watch NZ' is a Facebook group whose number one goal is "binging [sic] public awareness" about geoengineering. This includes the very real and important discussion around weather modification and chemtrails throughout Aotearoa New Zealand and the rest of the Read more...
Posted 1:53pm Sunday 1st May 2022
Last week Critic Te Arohi reported that Hyde Street ticket prices have jumped this year by 10% ($5) for students and a whopping 35% ($7) for street residents. To get to the bottom of this, we spoke to Jason Schroeder, Events and Venues Operations Manager for OUSA. Just like any good conspiracy, Read more...
Posted 2:45pm Sunday 24th April 2022
Why spend money on something that someone else already has? Whether it be bin space, spoons, or even toilet paper, someone else has these things, and they could be yours with a little courage. This way of life isn't new. More than a century ago there was only really one type of car Read more...
Posted 2:33pm Sunday 24th April 2022
The shower in my flat is garbage. Water pressure is flaccid at best and the temperature needs to be on mood-stabilisers drugs. So after stumbling upon the showers in Te Tumu, I wondered how many showers are around campus that myself and other shower-seeking students could to use. This led Read more...
Posted 2:21pm Sunday 24th April 2022
OUSA has confirmed that the Hyde St party is back for another year. After some uncertainty over dates, it's finally been locked in to happen just a week before semester one exams. OUSA confirmed on April 12 that the Hyde St Party will go ahead this year. After previously postponing Read more...
Posted 2:08pm Sunday 24th April 2022
A group of students survived a harrowing car crash with a stag on the West Coast over the mid-sem break. The crash claimed most of their car's front end, but amazingly left it intact enough to drive a further 50km to the nearest town. On April 14, Ali was heading up the West Coast with her Read more...
Posted 1:33am Saturday 9th April 2022
Chewbacca, affectionately known as Chewie, is known for his big heart and unwavering loyalty to his friends. Critic Te Arohi hopes Tom still feels the same way about his mates, after his flatmate put his phone number all over campus advertising a Chewbacca impression contest. A box of Major Majors Read more...
Showing results 1 - 10 of 24

Previous Results
Next Results