Posted 3:09pm Sunday 1st August 2021 by Erin Gourley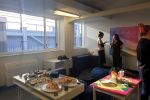 The queer space officially opened on Friday 23 June, after a blessing. This was followed by a speech from OUSA President Michaela Waite-Harvey. The space is located on the second floor of the Union building, opposite the Terrace Lounge. It has a microwave, a mini-fridge covered with The Office Read more...
Posted 11:18am Tuesday 13th July 2021 by Sean Gourley
Flat break-ins in North Dunedin are almost more common than chlamydia. Insurance is expensive and when landlords don't pay for basic kitchen repairs, they sure as shit aren't going to pay for any decent home security system. So what can you do to prevent burglars taking your most prized Read more...
Showing results 1 - 2 of 2
TAGGED ITEMS
Showing items with the tag:
safety