Posted 6:16pm Friday 1st April 2022 by Ruby Werry and Fox Meyer
Time moves fast. Sometimes, it's easy to forget that the stuff you're being taught at Uni might not be the same stuff that was being taught 20 years ago. Plate tectonics, for example, only became a fully-fledged theory in the '60s. That means we were on the moon before we Read more...
Posted 5:27pm Sunday 27th March 2022 by Denzel Chung
Demand for mental health care among under-20s has spiked in the last two years, according to a new Government report. They were hopeful, though, that increased Government funding would soon make a bigger impact. The report, titled 'Te Huringa: Change and Transformation', was Read more...
Posted 2:18pm Sunday 20th March 2022 by Lotto Ramsay
"We were on a bit of an MD bender and someone said that they had some Ritalin we could do", Alex told Critic. "We cut up some lines and snorted it – I think we had two or three lines each – and afterwards everyone else was hyper and talking at like three hundred words a Read more...
Posted 4:05pm Friday 1st October 2021 by Erin Gourley
Sometimes, as a treat, OUSA will do something with good intentions that is nonetheless destined for disaster. Setting up a whiteboard in the Link for Mental Health Awareness Week and allowing people to write whatever they choose on a Post-It note, anonymously, is one of those things. The mental Read more...
Posted 2:49pm Sunday 26th September 2021 by Denzel Chung
Silverline, a student-led mental health initiative, has been called out for saying a sexual violence prevention workshop was about "sex and relating". On Thursday September 16, student Kayli called attention on Twitter to a Facebook post by Silverline, promoting a Student Job Search Read more...
Posted 1:13am Saturday 11th September 2021 by Erin Gourley
OUSA made a lengthy submission in favour of the Conversion Practices Prohibition Legislation Bill, which proposes to ban conversion practices (including conversion therapy) in Aotearoa. They were one of over 100,000 submissions on the Bill. The OUSA submission, written by Political Read more...
Posted 4:01pm Sunday 25th July 2021 by Denzel Chung
A student who attended the Silverline Festival is accusing organisers of not providing enough mental health support for attendees, but Silverline say feedback from their event was overwhelmingly positive. Last week, Critic Te Arohi reported that the event cost $26,000. The student reached out Read more...
Posted 4:09pm Sunday 30th May 2021 by Fox Meyer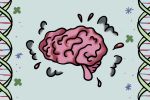 A study released last week surveyed 4,499 Kiwi students to see if their mental health got worse when they worked on their PhDs. The data said: no, their mental health was not affected. "You've gotta be fuckin' kidding me, right?" asked Dan, a fourth-year. "Is that Read more...
Posted 4:12pm Sunday 16th May 2021 by Asia Martusia King
Esmerelda* was 36 when she was diagnosed with Attention Deficit Hyperactivity Disorder. She isn't the zoomy young boy most people associate with ADHD, a stereotype that leads to countless young girls and non-binary children going undiagnosed. These children grow up battling with their own Read more...
Posted 5:22pm Sunday 2nd May 2021 by Annabelle Vaughan
Every year, hundreds of students enrol in competitive entry programmes hoping to get a prestigious degree and achieve their big dreams. But the stress of these courses, which loom large in students' futures, can take a toll on student mental health. Competitive entry is not the cause of mental Read more...
Showing results 1 - 10 of 16

Previous Results
Next Results

TAGGED ITEMS
Showing items with the tag:
mental health