Posted 2:15pm Monday 16th August 2021 by Elliot Weir
Pōneke-based Daniel Vernon is a man of many talents. He's an artist, a podcaster, and is in a band. He writes and plays music in Dartz, makes political satire comics as yeehawtheboys, and talks about sex, love, and relationships on the Just The Tips podcast. Daniel took some time out of Read more...
Posted 12:38am Monday 19th April 2021 by Sophia Carter Peters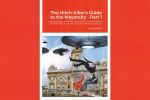 DCC Councillor Lee Vandervis has recently released a "book" (his words). The full title is The Hitch-hikers Guide to the Mayoralty Part 1: Invaluable for understanding the DCC and reading between the lines of local print-media monopoly. The title is only a fraction of this truly bizarre Read more...
Posted 8:51pm Sunday 18th April 2021 by Denzel Chung
Around 1,500 people — ranging from high-schoolers to pensioners — marched from the Dental School to the Octagon on April 9th, Ōtepoti's contribution to the nationwide School Strike 4 Climate (SS4C). Despite the Covid-19 lockdown forcing the cancellation of last year's Read more...
Showing results 1 - 3 of 3
TAGGED ITEMS
Showing items with the tag:
mayor