Sir Tim Shadbolt, Mayor of Invercargill, celebrated his 75th birthday last week. Critic Te Arohi travelled to the mighty city down South to interview the man who has been a mayor longer than anyone else in New Zealand history. From a legacy steeped in parties, protests, and poems to council infighting and his biggest regret, Shadbolt shared it all. We ask the man himself: how did he get here?
Shadbolt was involved in student politics and student journalism more than half a century ago, studying at the University of Auckland in the late '60s and early '70s. He was the editor of Craccum magazine and was also elected to the Auckland University Students Association executive. He described it as an "ideal job" with a lot of "social control", which may explain why he reportedly earned the nickname 'Tim Shagbolt' early on in his career.
Tim was a prominent figure in the counterculture movement at the time, founding the tongue-in-cheek Auckland University Society For the Active Prevention of Cruelty to Politically Apathetic Humans, or AUSAPOCPAH for short. He then set up a commune in West Auckland, as well as a band, the Huia Identity Crisis and Nervous Breakdown Band. Alongside his lengthily-named societies and bands, he "organised parties on campus" for other students.
Shadbolt told us that some of the more "traditional" protest groups at the time, like the Campaign for Nuclear Disarmament, "thought we were a bunch of crazies" but that "there was a serious side to our social activities." He described a whole range of campaigns from homosexual law reform to French nuclear testing in the Pacific, that "all came together for a united front" for the antiwar protests.
Sir Tim told Critic Te Arohi that his father's death had an influence on his opinions about war. When he was five, his dad volunteered for the Korean War. Tim "didn't think war would break out in Korea." But it did, and his dad crashed his plane on a retraining flight and died. A picture of his dad sat on a nearby shelf, and he pointed it out to us during this story.
When asked if there was anything unique about being a student that lends itself to being involved in protest politics, Shadbolt replied that "there certainly was in the '60s". The United States and Australia had already conscripted students to Korea and "told them to fight for democracy". "One of the highest casualty rates was students", Shadbolt said, "so campuses around the world took umbrage at that".
When comparing his days as a student to students today, Shadbolt says they were, "in the 60s, conscious of the world stage" and the role they had to play, but also that students at the time "were in a good position to play a role. We didn't have the financial pressures that modern day students have got. Some say 'nah they're slack, they got no conscience'. I don't think that's the case at all, it's just the situation has changed for students". He told us of his three-bedroom flat in Parnell costing $12 a week to live in. We didn't believe him, and had to google just how much inflation and house prices have risen since Tim Shadbolt was flatting, but it checks out. Add to this the fact that full University tuition fees requiring a student loan scheme were only introduced in NZ in 1989. Tim says students are under "decidedly" more financial pressure now than before.
Shadbolt then told us about a 1980 Auckland council plan to demolish houses to build a motorway, which he was opposed to. Then, after double-checking how much time we had, Mayor Tim recited - from memory - a poem he wrote at the time (in its entirety). We won't publish it here, but a copy of it exists in the National Archives if you're curious. He then laughed and told us that "we won that one, which was a rarity. We usually got beaten up and thrown in cells." It's hard to define the 'success rate' of Shadbolt's protest efforts, but he says that "in the short term, we were crushed, for most things" but that in the long term they made a difference. While the '81 Springbok tour protests felt like a failure at the time to some, the freedom of Nelson Mandela meant "in the long term we can definitely claim a few victories."
Shadbolt isn't proud of everything from this period of his life though. He told Critic his biggest regret was the children that were raised on the commune. "When we went out to the commune, babies started popping up all over the place and we didn't put as much time and energy into the commune babies [as we should have]. Anyone involved in political activity, you have a seperation [from your personal life] and you pay the price."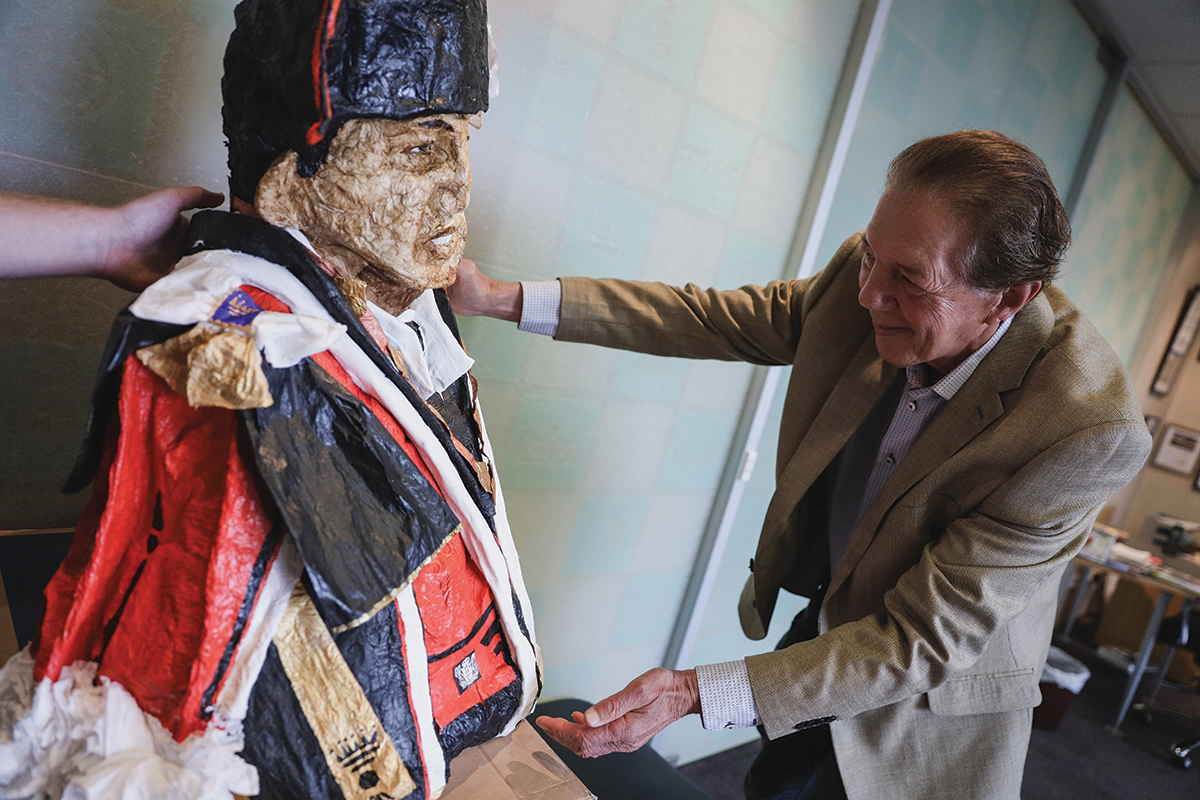 When asked about his thoughts on some modern protest movements, he had positive things to say about School Strike for Climate protestors and that climate change is "such an enormous issue [with] huge ramifications". He said that Ihumātao "certainly sounds like the sort of activity I'd be involved with" but that he didn't know much about it. "You have to narrow your life down into just a few issues that you can cope with as you get older." On the subject of anti-vaxx protests, he said that "as an old protestor I can see it's something I'd usually jump aboard, but it's such a unique protest [...] I'd shy away from that."
In addition to being on screen for making the news, Shadbolt has also had some roles in TV shows and movies, from a role in The World's Fastest Indian to placing 3rd in the first NZ season of Dancing With The Stars. He said he wouldn't mind being in more TV or movie roles in the near future but "they'd be a bit quieter, they take it out of you a bit."
While Sir Tim Shadbolt earnt his legendary status from his mahi as a protestor decades ago, and as Mayor of Waitematā City and Invercargill since, he also had two unsuccessful forays into parliamentary politics, running as a candidate for New Zealand First in 1994 and for the Aotearoa Legalise Cannabis Party in 1996. When asked about his decision to run for New Zealand First, Shadbolt said that "It was when Winston Peters was in his prime. I sort of quite liked the fact he was prepared to challenge mainstream parties. A by-election popped up out of nowhere and I thought 'oh well it keeps your profile high, there's no chance of winning'. While a win was unlikely, Winston Peters reportedly told Shadbolt that a good result could earn them a few more seats in parliament. Shadbolt told Peters that he wasn't interested in going to parliament, to which Peters responded "don't worry, you won't be going there." Shadbolt placed a distant fourth, and when we asked what he thought of New Zealand First today, he said he was "not sure what they're up to" these days.
Two years later Shadbolt stood unsuccessfully for the Aotearoa Legalise Cannabis Party in the 1996 general election. At the time, recreational cannabis use wasn't legal anywhere in the world. In the time since, cannabis has been fully legalised in 6 countries, 18 American states and the capital of Australia, and it's been decriminalised in many more. We asked Mayor Tim why he thought it hadn't happened in Aotearoa yet.
"I certainly put it to the test by running and it was an unfair test because [...] P arrived on the scene and artificial cannabis. Timing of issues like that is so important. You've got to have a bit of luck." On the referendum result, Shadbolt said the legalise campaign suffered "a narrow defeat and I thought if they'd ran a better campaign it would have got through." Critic asked Tim if Prime Minister Ardern announcing she was voting yes would have made a difference on the end result. "Yes, I'm sure it would have."
The 75-year-old made it clear that he doesn't smoke weed, at least not anymore. "A lot of people jump to conclusions and say 'oh you're smoking and you're stoned' and I'm not. I've had to change my own lifestyle quite a bit and you can't always have your own way in politics."
Many on the council aren't happy with Mayor Shadbolt at the moment. In the past year or so his former deputy resigned, council staff accessed his emails, his licence was taken away, the relationship with his current deputy became strained. After continued dysfunction a review described him as a "distraction" to the functioning council. He reckoned there wasn't anything uniquely challenging about this year politically, but did comment that he thought Yes Minister (a British sitcom set in the British cabinet) was more of a documentary than a comedy show "because there's always conflict in every situation I've been in in an elected position. There seems to be an immediate breakout of bureaucracy and it just seems to be inevitable. Both sides seem to think they're right." Shadbolt said that he felt "not so much undermined" by others in his council "but they just feel they are in the right".
Mayor Tim stressed the importance of having a sense of humour in politics. He also talked about getting out there, and taking opportunities as they come. "That's how I became mayor really, it wasnt that I had any brilliant policies, the ones you mentioned were just by accident. You've got to be prepared to just grab initiatives and run with it, you can't let the bureaucrats hold you down."
Shadbolt also confirmed he is "absolutely" running for mayor again this year. "If I'm thrown out fair enough, that's democracy" but he'll "just keep running until they throw me out of here." He has butted heads with his deputy, Nobby Clark, over the past years but Shadbolt says Clark is not running for council this year, "so that's one battle won already." When asked who he would want as deputy should he win the election for a tenth time, Shadbolt said he wanted "someone who knows a lot more than me about climate change and coronaviruses."
If he does eventually move on from local government, he told Critic he has plans for a third book to "end the trilogy". This one would be "more focused on local issues." Shadbolt thinks his political legacy will be "a mass of contradictions" but that if he were to mention one thing "it has to be getting a knighthood for services to local government and community. I might get a statue if I'm lucky. But you just don't know. There's a lot of life to go." Discussing his knighthood, Shadbolt mused that "the Queen is sort of a terrific role model for people who hang in there." When asked if he thought him or the Queen would last longer in power, he reckoned the Queen would.
Critic Te Arohi asked Tim about his personal legacy, and he focused on his parents, his children, and his seven grandchildren. He was thankful for his family, and legacy, saying "you've just got to enjoy life and thank The Lord for giving you such a long run." We asked if he had any final words he wanted to say, and he thanked us for giving him the chance to share his story once more. "It's only one story, everyone's got a story to tell and so do I."