Posted 5:53pm Saturday 3rd March 2018 by Esme Hall
After losing his co-leader just before the 2017 general election, James Shaw was tasked with leading his party alone on a quixotic journey from outsiders to governors. Rather than riding in on a green wave, the party limped across the line, just squeezing above the 5% threshold required to keep Read more...
Posted 11:36am Sunday 8th October 2017 by George Elliott
In response to the spectre of terrorist attacks, France has made its current legal exceptions permanent, kicking the judiciary out of the process and expanding warrantless practices. A state of emergency has been in place since November 2015, when hundreds were killed or wounded in a coordinated Read more...
Posted 10:18am Saturday 30th September 2017 by George Elliott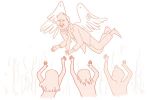 We are at a stage where, for all the analysis, all the hearsay and all the expertise, things are just uncertain. It's both frustrating and rapturous; plain and radical. Winston Peters, the leader of NZ First, is waiting for the special votes to be finalised on 7 October and is consulting with Read more...
Posted 10:25am Saturday 30th September 2017 by Joe Higham
Joe Higham: What are your thoughts on how the election campaign went? David Clark: It's been a rollercoaster. When we began last November, we had a different leader and we had a plan we'd been working on for a couple of years, and it's only a couple of months ago that we changed Read more...
Posted 11:24am Sunday 24th September 2017 by George Elliott
Aung San Suu Kyi, the de facto leader of Myanmar (a.k.a. Burma), was once the Asian darling of the Western liberal order. She was a saintly freedom fighter who would bring democracy (and presumably free enterprise) to a Southeast Asian nation that had been ruled by military dictatorships since 1962. Read more...
Posted 2:37pm Sunday 17th September 2017 by Mat Clarkson
"Be prepared, there is a small chance that our horrendous leadership could unknowingly lead us into World War III." - Donald J. Trump, @realDonaldTrump "Tweets on Winston Peters NZ Politician" - Winston Peters, @winstonpeters It's that time again, Read more...
Posted 10:54am Sunday 10th September 2017 by Esme Hall
More young people have enrolled to vote than at this point in 2014. But, young people are still underrepresented in choosing New Zealand's government. It's not that we don't care, it's just that none of the parties really speak to us. Or they all do, in different ways. When Read more...
Posted 11:04am Sunday 10th September 2017 by Joel MacManus
In a candid interview with Critic, Labour Party Finance Minister Grant Robertson revealed the extent of the personal attacks he has faced since he became an MP. Robertson, who is openly gay, said that he has experienced both "actual abuse" and "unconscious bias" over his Read more...
Posted 11:06am Sunday 3rd September 2017 by George Elliott
There's been allegations made of leaking, dirty rumours on Twitter and blurring lines between the bureaucratic and political – the election is just threeish weeks away! The so-called 'no surprises' convention – not strictly the singular matter of Winston Peters' Read more...
Posted 10:30am Sunday 20th August 2017 by Joel MacManus
The Dunedin North Labour Party say they have signed up an extra 52 campaign volunteers since Jacinda Ardern was made leader, as both major parties report an increased interest in this election campaign. Labour Party Campaign Manager for Dunedin North Jarred Griffiths says that during the 2017 Read more...
Showing results 1 - 10 of 145

Previous Results
Next Results

TAGGED ITEMS
Showing items with the tag:
politics