Posted 9:23pm Saturday 6th March 2021 by Asia Martusia King
Trigger warning: Disordered eating. Maybe you're born with it. Maybe it's anorexia nervosa, and you were also born with it. Did you know that alongside environmental influences, eating disorders are significantly predisposed by your genetics? I didn't, but it sure would have Read more...
Posted 12:27am Sunday 7th March 2021 by Susana Jones
If you've ever been a student searching for a job, you've definitely heard of Student Job Search (SJS). If you're funded by a Daddy and have never been on that job search grind, SJS is a charity, underwritten by MSD and the student unions, that hooks students up with job Read more...
Posted 3:58pm Tuesday 2nd March 2021 by Susana Jones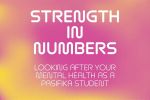 I remember walking in to Student Health as a fresher many moons ago, feeling crook as fuck in all ways possible, just needing some help. I looked around for a brown face or name. There were none in sight. My name, pronounced incorrectly, was called out by the Caucasian doctor, summoning me to their Read more...
Posted 11:18am Sunday 23rd July 2017 by David Clark
Under the National government, things have swung too far out of balance in our country. A small group of ultra-wealthy people continue to get ahead while everyday New Zealanders are running to stand still, or are being left behind. That deeply concerns me. No matter your background, everyone Read more...
Showing results 11 - 14 of 14

Previous Results
Next Results

TAGGED ITEMS
Showing items with the tag:
health