Posted 2:53pm Sunday 18th July 2021 by Fox Meyer
Otago Uni topped the charts in three of four "key indicators" of success at New Zealand universities, according to the annual ranking published by the Tertiary Education Commission. We had the best rates of qualification completion, first year retention, and progression. People Read more...
Posted 2:47pm Sunday 18th July 2021 by Erin Gourley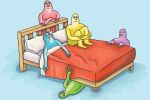 Living in a twin room might seem like your worst nightmare, but you do save a lot of money compared with the usual price of living in one of Otago's residential colleges. "I can't image paying full price," said Carolina*, who lives in a twin room in Aquinas. She only Read more...
Posted 3:52pm Monday 26th April 2021 by Annabelle Vaughan
This guide here goes out to all my freshers who have just begun their journey at the University of Otago. I get it, you're probably feeling nervous, excited, and slightly panicked about the prospect of spending the next few years of your life in this freezing cold, chlamydia infested hole at Read more...
Posted 1:20pm Sunday 7th March 2021 by Critic
My problem? Broken banjo string. Seriously. Thanks, Patrick Hi Patrick. I've never played an instrument, but I think you can buy replacement strings in town at Music Planet. I'm not sure they carry banjo equipment though. Maybe don't strum so hard next Read more...
Showing results 1 - 4 of 4
TAGGED ITEMS
Showing items with the tag:
fresher