Posted 3:11pm Friday 1st October 2021 by Alex Leckie-Zaharic
In an historic vote last Wednesday, the Dunedin City Council moved to turn George St into a one-way heading south, with construction beginning shortly. It has been over thirty years since George Street was last redeveloped. Apart from that jeweller who is now using Aaron Hawkins' face as a Read more...
Posted 1:07am Monday 9th August 2021 by Sophia Carter Peters
Fresh parking warden hatchlings have been spotted by local drivers, much to the distress of anyone who has received a parking ticket. The usually-lone parking rangers on their "motorised scooter" have been partnered up this week with trainees. This means that your risk of a parking Read more...
Posted 3:55pm Sunday 16th May 2021 by Alex Leckie-Zaharic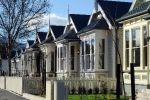 The DCC stood remarkably stone-faced last week as the University effectively got on their knees and begged for them to stop taking infrastructure funding away from the tertiary precinct. The DCC has delayed the tertiary precinct upgrade. The plan has gone from $20 million over the next few Read more...
Posted 10:13pm Sunday 2nd May 2021 by Denzel Chung
Local musicians and venue owners are pushing the DCC to stop noise complaints "killing live music," after a folk gig at Dog With Two Tails was shut down because noise control could "hear it from a carpark." As if that wasn't the whole point. Dave Bennett was sound Read more...
Posted 11:13am Sunday 5th July 2015 by Bridie Boyd
The Central Otago District Council (CODC) has declined a proposal which would have allowed the University of Otago to dig up unmarked graves in the region's 17 cemeteries. In 2013 an archaeologist reported that there could be almost 800 unmarked graves in Central Otago. With the support of Read more...
Showing results 1 - 6 of 6
TAGGED ITEMS
Showing items with the tag:
council