Posted 4:54pm Sunday 30th May 2021 by Fox Meyer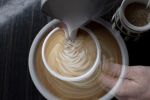 The cheapest coffee in town will now cost more than a coin, as Veggie Boys raises its price by a dollar. A regular is now $3, and a large comes in at $4. The price increase comes during a change of management. Supreet, the new manager at Veggie Boys, told Radio One that the previous owners Read more...
Posted 2:53pm Sunday 9th May 2021 by Fox Meyer
A new Massey study circulated by prominent science publisher MDPI found that nearly every single New Zealand tertiary student consumes caffeine on a near-daily basis. Caffeine was most commonly consumed as energy drinks, coffee, tea, or chocolate. The real news here is that 1% of students somehow Read more...
Posted 11:31pm Tuesday 2nd March 2021 by Erin Gourley
Food trucks are a terrifying concept. You take a whole cafe and squeeze it into a small box on wheels, then drive that box around to different places. Hazel Combs is a student who is out there doing that. She is in the final year of a Politics degree, and decided after the lockdown last year that Read more...
Posted 6:14pm Thursday 7th March 2019 by Florence Dean
Sometimes when you're studying, the concrete jungle called "central library" just doesn't cut it. I don't know about you, but I can't study without noise. I'm not talking about people talking obnoxiously loudly (I'm looking at you second years on the Read more...
Showing results 1 - 4 of 4
TAGGED ITEMS
Showing items with the tag:
coffee