Posted 10:59am Sunday 30th August 2015
Four men have been recognised for their bravery after overpowering a heavily armed gunman on a train in northern France. The three Americans and one Briton were subsequently awarded France's highest honour, the Légion d'honneur, for their role in stopping what is suspected to be a Read more...
Posted 11:18am Sunday 16th August 2015
StudyLink, working with the New Zealand Union of Students' Association (NZUSA), has made efforts to improve its services for students. NZUSA said students were "deeply unhappy" with StudyLink's service in 2013 and made improving StudyLink a top priority. In 2013, the Read more...
Posted 11:00am Sunday 9th August 2015
A new vaccine could bring an end to the Ebola epidemic in West Africa. A vaccine trial against the deadly virus has proven enormously effective, with initial findings showing 100 percent efficacy in individuals. WHO (the World Health Organization) called the findings a Read more...
Posted 11:11am Sunday 2nd August 2015
A Whangarei woman has become the decoy-grandmother of all Scarfies this week after her hand-knitted beanies were snatched up in seconds. Geraldine Edwards has been sending the Otago Chaplain, Greg Hughson, regular boxes of hand-knitted beanies for the past few months. Her only request: Read more...
Posted 10:49am Sunday 26th July 2015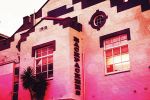 View Street's controversial "Backpackers" flat was forced to cancel a planned party last week, despite getting initial approval from the Dunedin City Council and local police. The "Backpackers' Ball," a tradition of several years, was scheduled for Friday 17 Read more...
Posted 11:23am Sunday 12th July 2015
After rejecting an international bailout, Greece has chosen to play spin the bottle with its financial future. The final results of Monday's referendum show 61.3 percent voted against and 38.7 percent for the terms of the proposed 29 billion euro bailout. Greece's governing Read more...
Posted 11:02am Sunday 5th July 2015
As students return for re-orientation, BYOs may no longer be the same. A new accord, or agreement of standards, developed by the Dunedin Police and the Southern District Health Board was announced last Monday. The accord aims to reduce intoxication in Dunedin BYO restaurants and make BYOs Read more...
Posted 11:03am Sunday 24th May 2015
Dzhoker Tsarnaev has been sentenced to death for his role in the 2013 attack on the Boston Marathon, which killed three people and left more than 260 wounded. In April a jury found Tsarnaev guilty of all 30 charges related to the attack, which included charges of terrorism. 17 of these charges Read more...
Posted 10:59am Sunday 17th May 2015
Following a petition with 1.2 million signatures, the European parliament met on Monday 11 April to discuss the possibility of banning animal testing throughout Europe. At the meeting, Stop Vivisection — which created the petition and is actively against animal testing — put Read more...
Posted 11:56am Sunday 3rd May 2015
More than eight million people across three countries have been affected by the Nepal earthquake, which occurred on 25 April 2015. According to Nepalese officials, 5000 people have been confirmed dead and 6500 injured. Numbers are expected to increase as rescue teams scour remote Read more...
Showing results 1 - 10 of 10