No, we are not talking about the catchy Swedish pop-metal anthem that peaked at number 12 on the New Zealand Charts in 1987 (and may still get pumped into the Zoo on the odd occasion). This week we are talking about Europe's top domestic football leagues, which are into their final countdown towards the end of the season in May.
England
—
Premier League
As they have been at the top of the table since the start of the season, few people would bet on Chelsea throwing it away now. Their closest rivals, Manchester City, have suffered a dip in form and have not capitalised on some of Chelsea's surprising draws recently. The race for the top four and is probably going to be the most exciting battle to watch as this is likely to go down to the last round, with Manchester United and Arsenal holding the advantage over Liverpool, Southampton and Tottenham, who are still in the mix.
Spain
—
La Liga
It is Groundhog Day in Spain as the superpowers of Real Madrid and Barcelona are in a two-horse race for the title again, although Barcelona's victory over Real in the "El Clasico" derby between the two has definitely tipped things in their favour. Last season's surprise winners Atletico Madrid haven't been able to replicate their success this year — probably because Chelsea swooped in and pinched their top striker Diego Costa and replaced him with their misfiring reject, Fernando Torres.
Germany
—
Bundesliga
Having a team made up mostly of the World-Cup-winning German team, it is no surprise that Bayern Munich have been characteristically dominant this season, only losing twice all season. Dortmund are always looking over the shoulder as Bayern inevitably swoop in for their best players, and as they are unlikely to appear in the Champions League next season, there could be another mass exodus of players and staff.
Italy
—
Serie A
It has been all about Juventus, who are all but guaranteed a fourth successive title. Juve have been utterly dominant, suffering just one defeat to mid-table battlers Genoa so far this year and are favourites to make the Champions League semi-finals. Everyone has been disappointed by the traditional powerhouse teams of AC Milan and Inter Milan, who have been splashing around the middle of the table for the past few seasons.
France
—
Ligue 1
Barely counting as one of Europe's "top leagues", it is at least still a close competition as to who will win it, probably due to the fact that most of teams are equally shite more than anything. It still looks to be a three-way fight between Paris Saint-Germain, Lyon and Marseille, with Monaco just about hanging onto the leaders, although the Champions League ambitions of PSG and Monaco could harm their chances domestically.
The bad times being endured by the England cricket team have been laid bare in the last few weeks, but it doesn't get much better for English football teams in European competition as they were all unceremoniously dumped out of the Champions League in the Round of 16 stage. Manchester City never had much of a chance against Barcelona, while Chelsea and Arsenal both became victims of the controversial away-goals rule that will be abolished when I come to power.
The standout game of the quarter-finals draw sees a replay of last year's final with the local derby of Atletico Madrid vs. Real Madrid, which should provide plenty of blood, sweat, tears and passion.
Rugby Roundup
T he Hurricanes are on top and enjoying their best ever start to a season. The Highlanders were still unlucky to lose 13–20 to the Canes, that damn TMO spoiling the day for the Landers again, but a bonus point keeps them in the top six.
Dan Carter looks to be getting back into form as the Crusaders had a classic game of two halves, coming back from 10–14 at halftime to thrash the Cheetahs 57–14 to sit just outside the top six.
Over in South Africa, the Chiefs battled hard but came up just short against the Sharks with a 12–11 loss, but are still well placed in the table. A bye keeps the Blues right at the bottom, not that they would have won anyway.
Top Tweets
Send us your funny sports tweets to @CriticTeArohi or @danbagnz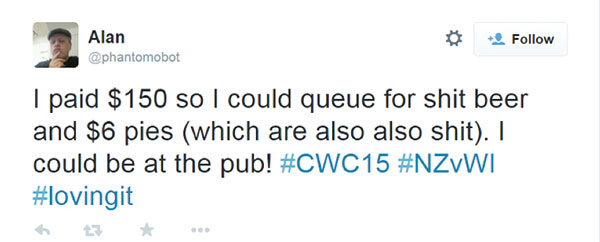 First-world problems in Wellington...

Good on ya, mate. You should invite Alan from above...
I think That Guy should just stick to selling sausages...

Pause at the right moment to see Vettori's "Air Jordan" impression...

That is a strange choice of pets. Get another one and name it Dan...