Alcohol, booze, grog… whatever you call it, Dunedinites just can't seem to get enough of the stuff. While the stereotype is often blown out of proportion, it's certainly not without any basis in reality; Dunedin students are known to love a good drink or twelve. Thomas Rillstone, who hosts the History of Aotearoa New Zealand Podcast, first gained an appreciation for beer during his time at Otago Uni, and he's here to tell us more about Dunedin's history with the stuff.
Dunedin was once the brewing capital of Aotearoa New Zealand, producing more than a quarter of the entire country's beer in 1880. So even though the sale of alcohol has been cracked down on in North Dunedin, and student bars hunted to extinction, our history of producing beer is all around us. In fact, you probably walk past the sites of former breweries every day, or maybe you regularly shop in one, or better yet, you might even live on top of a former holy site of Dunedin beer.
Let's start with Dunedin's very first brewery, aptly named the Dunedin Brewery. It was located on the corner of Pitt Street, Heriot Row and Royal Terrace, roughly where number 74 is now, from 1856-58. It wasn't uncommon for breweries to only last a few years back in those days, and just like any small business, a disaster, bad luck or plain stupidity could cause the whole thing to come crashing down. In the case of the Dunedin Brewery though, the story ended when the owner moved the operation to another site and no further brewing was done at number 74. This is unusual, because normally the same site will host multiple breweries over time, most often due to their access to clean water. This brewery wasn't anything particularly special in the scheme of things, but it was a pretty big deal in its day. Dunedin's first brewery meant that, for the first time, Dunedinites could get their hands on relatively cheap beer without needing to import it from Europe, and it paved the way for the giants that were to come.
One of these giants was the Water of Leith Brewery, run by a couple of guys called Marshall & Copeland from 1862-87. Their operation was spread across town, including a spot on Malvern Street, but the main brewery was on the site of what is now Galaxy Books on Great King. At the time, Ōwheo (Leith) actually ran a bit closer to this spot, hence the name, which gave them access to fresh water. And for a long time, these guys were the top of the hops when it came to Dunedin beer, brewing ~16,000 gallons more than their nearest competitor in 1878. A lot of their success had to do with access to overseas markets, particularly Australia, Fiji and other Pacific Islands. However, it was not to last.
Speights Brewery, Rattray Street c1905.
1878 also saw Marshall & Copeland buy a failed brewery on Cumberland Street, just across the road from the train station, and they soon shifted their main brewing operation there. They actually tried to sell the Galaxy Books site but nobody wanted it, so they used it to supplement their main operation. Unfortunately for them, this move had emptied their wallets, and following Marshall's death, Copeland declared bankruptcy. Like the fall of a giant tree, the space left when Water of Leith collapsed was pounced upon by sprightly young breweries, including a little operation by the name of Speight's.
When Water of Leith went pear-shaped, Speight's was able to take over all the old giant's export markets, and soon rocketed up to become the largest brewery in Aotearoa. As for the Galaxy Books site, it would see brewing continue under Speight's until 1976 when the whole thing was demolished. The Cumberland Street site was sold off. Speight's had planted its roots, and would continue to grow for a long, long time, but there were several other trees in the canopy jostling for space.
Just across the road from Galaxy Books, somewhere around where Leisure Lodge is now, was the Well Park Brewery from 1862-94. This brewery was also a major player, but their main claim to fame was that it was the very building in which the three founders of Speight's first met. How romantic. Well Park actually sold them the land on which the Speight's brewery currently sits! This brewery, and the malting company that spawned from it, actually did pretty well in the wake of Speight's dominance of the lower South Island, so fair play to them. 32 years is not a bad run. A second brewery on this spot was run by Powley & Co., who actually had the job of bottling Speight's prior to this venture. They had made a deal with Speight's parent company to buy some breweries off them, but after Prime Minister Walter Nash's 'Black Budget' increased the tax on beer in 1958, it didn't take long for Powley to hand those breweries right back.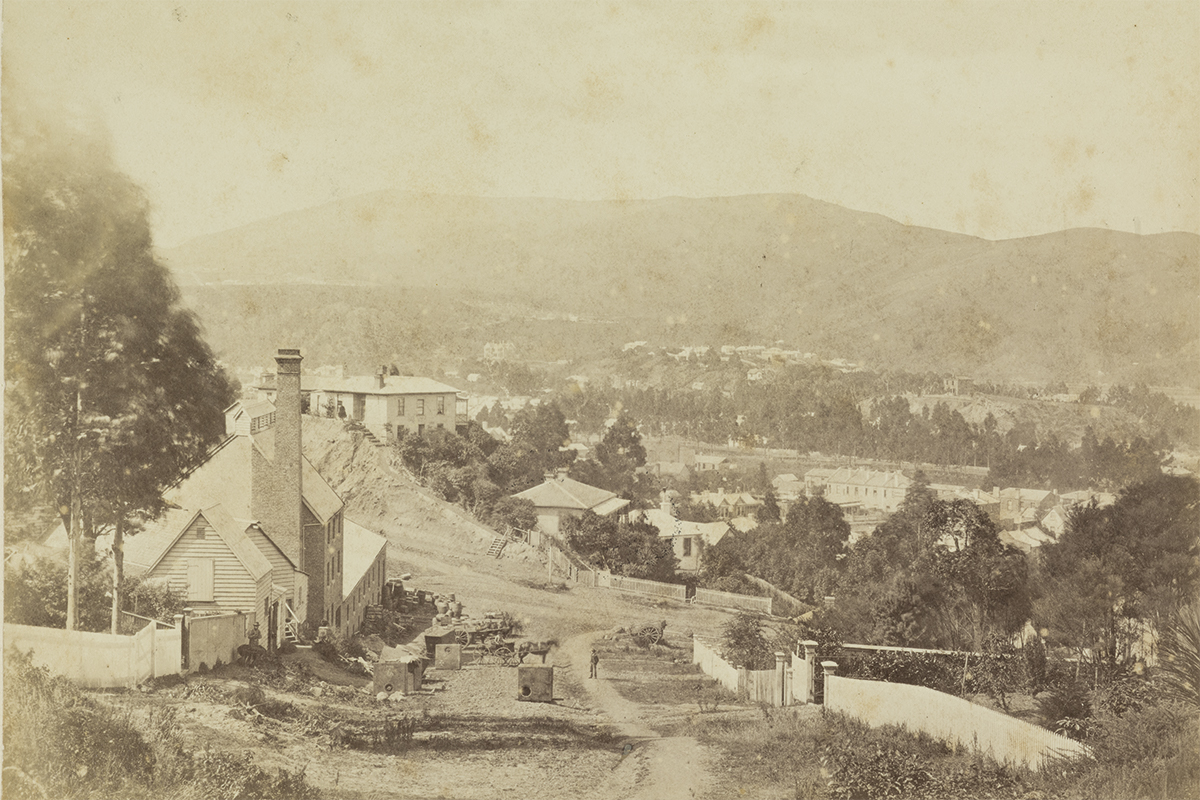 Dunedin North from Elder Street, 1870s.
The corner of Pitt and Elder Streets, just up the road from The Bog, hosted Strachan's (pronounced Strawn's) Brewery from 1861-1923, which is quite the tenure! Apparently, the remains of the water well in the brewery are still somewhere in the flat at 18 Pitt St, so if you live at 18 Pitt St and can give us a tour, please do. The interesting tale with these guys is that when the brewery was being sold by the National Bank in 1907, they offered it to Speight's (are you sensing a theme here?), who refused. The bank kept persisting, and still, Speight's told them to piss off. That is, until Charles Greenslade (one of the founders of Speight's) was approached by a guy in Christchurch who told him that if the Pride of the South didn't buy Strachan's, a syndicate of their rivals would, and they were going to use it to ruin the Dunedin beer scene. Greenslade was sufficiently spooked by this and immediately ordered the brewery be purchased, but to keep it on the down-low so that the prohibitionists didn't get their knickers in a twist, which was also a thing that was happening at the time.
Just across the road from the Baaa, where Meenan's now sits, was the Red Lion Brewery from 1862-1912. Not to be confused with the much more famous Lion Red, Red Lion's most famous owner was Maurice Joel, an engraver who also ran a hardware and boat supplies store on Princes Street, but who eventually sold off those side gigs to focus on the brewery full time. Joel had a rather troubled career as a brewer, battling fire, floods, water pollution and debts to try and keep the piss flowing. Against all odds, he managed to make his brewery one of the best in Dunedin by the mid-1870s, employing 20 staff and being the first to use steam power in the brewing process. Red Lion was expanded many times, seeing increases in both demand and government regulations, but unfortunately as Joel got older and his health failed, the brewery fell into decline and his sons decided to sell the land. The buyer? You can probably guess: James Speight & Co., who kept Strachan's brewery there until 1923. You can also see Strachan's place on the site of the junior portion of George Street School, just down the road from the fantastic Willowbank Dairy. It was there until 1952 when the Ministry of Education bought it.
Speights Brewery n.d.
Even ol' Gardies, now the Marsh Study Centre, hosted a brewery for three years. From 1876 to '79, the Marsh's occupants were Burton Brewery. This land was initially owned by Marshall from Water of Leith Brewery but it ended up in the hands of a guy called Lathbury, who was blamed for the failure of the former brewery that Marshall & Copeland bought on Cumberland St. It seems his reputation may have followed him, as Burton Brewery quickly failed and he offered it up for sale, finding no buyers, not even Speight's. Adding insult to injury, the building was engulfed in a fire which was thought to be started by "a tramp sleeping in the building [who discarded] a match", a sort of proto-breatha.
Only one of Dunedin's many OG breweries is still standing, still on the original site where it was founded way back in 1876: Speight's, the titan of Dunedin beer. As you can gather from the previous stories, Speight's was an absolute juggernaut, dominating the South Island beer trade all the way up to WW2. The Speight's brewery today looks like a bit of a hodgepodge, as it has been gradually expanded over the years, and the main parts of the building that you can see on Rattray Street were constructed in 1882, 1940 and ~2014. There is so much to say about Speight's, including their meteoric rise to glory, their fight with Dominion Breweries, their American export venture (exclusively sold at Trader Joe's) and even a petty scrap between James Speight and the Otago Daily Times (in which James took out an ad for three months in another newspaper just to send a big 'fuck you' to the ODT), but that's another story.
There are also a lot of other sites not featured here, such as Sydney Street in Caversham, Hanover Street by the Meridian Mall and one in South D across the road from West's Cordials. That's probably enough for one article, though. Hopefully you now have a newfound appreciation for the history of the city you find yourself drinking in, knowing that your weekly pilgrimage to the Octagon isn't just about getting sloshed, but that you are, in fact, following in the stumbling, bumbling, twisting footsteps of your foredrinkers. Enjoy that history responsibly.
The History of Aotearoa New Zealand Podcast can be found on Spotify, Apple Podcasts, and wherever else good podcasts are found, as well as here.