There are very few gigs as riveting as Hoochie World. A high energy, sometimes erratic experience that epitomises the Dunners Breatha experience, Hoochie World's insane series of gigs are led by some of the front-runners of the new wave of "Dunedin Sound," including Marlin's Dreaming, Soaked Oats, Mild Orange, and Jack Berry.
Since Hoochie World 1 in September 2017, the gigs have been catching on as word of mouth spreads, and the third incarnation of the gig sold out its first round of tickets within 24 hours. Paul Whiley sat down with organisers Anthony Tep, Damian McCabe, and Riley Coughlin, to discuss their expectations, reactions and plans surrounding the "Hoochie World" concept.
---
Where did the concept of Hoochie World come from?
Damian: So, I did the Jack Berry stuff and so I wanted to host my own first gig and then kind of came up with idea to label it a different thing to have another thing going that we could work towards. The first one was really mellow. We had Hot Donnas and Bathsalts playing with us and with the second one, we came back and thought about how we could make it better, keep on expanding. But it all stemmed from me wanting to do a gig and have all my friends who were really keen to run this as its own thing. You have so much possibility with what you can do with an event and being able to capitalise on what's happening in Dunedin, with everyone now wanting to go to gigs. And last year, with our first gig, the venue situation in Dunedin was pretty limited, like "we'll just do it here at Refuel". We didn't manage to sell the first one out, then we did the next one, that sold out. Now for the third one, we thought if that sold out, we can look at the fourth and start expanding it because we would know that we have that reach!
How does it feel knowing that you sold out your first round of tickets in 24 hours?
Damian: Yeah, 219 tickets in 24 hours, which is pretty crazy. I didn't expect it at all. I thought there was going to be a gradual incline, like we had a few $5 ones, a bulk of $10 and a few $15 tickets. I expected all the $5 ones to go because $5 to go to a gig is beautiful. Then all the $10 and so on, but all the tickets went at the same time, and that was crazy! We didn't know what to do. Normally, after we start selling tickets, we go and take photos of the bands, so we can get the event going and build some hype. But this time, it was right at the start. Because of that, we thought, let's incorporate some stage props.
Riley: Yeah, because it's really easy to just put bands together so this time we are a lot more curious to try new things.
Damian: Yeah, since we solidified all our marketing with our ticket sales, we went and got Hamish Calder involved. He's in charge of all the stage design along with Silas.
Was stage design one of the ways you wanted to expand?
Damian: Yeah, this incorporation of different media and interaction.
Anthony: And, because of this we have kind of separated the vibes, like over here we have the DJ booth and the bar, making it the party area, then over in the next room, it's all setup differently with all the bands. When the band finishes, everyone will come over to the DJ side and vice versa.
Damian: We're utilizing the whole space. Because we've been to gigs where that hasn't really happened.
Where did the name "Hoochie World" come from?
Damian: So, we were all in a Facebook group with a hundred other people, which was called "the Hoochie Boys".
Riley: Some of the other people were involved with the group, like one of the admins of Hoochie Boys is Hamish Borland (aka Hamish Ballin') who's our DJ.
Damian: I had the Hoochie admins for the Hoochie Boys in my head and we just came up with Hoochie World. I feel it made it sound more like an event when it has "the world" involved and tied it off quite nicely!
So, is this the expansion of the Hoochie Boys?
Damian: Yeah, we took away "the boys" and put "the world" on there so it's like everyone is "Hoochie" now!
Did all three of you start working together through the Hoochie Boys group?
Damian: We've been friends for quite a while and have been trying to do stuff for years. Heaps of different things.
Riley: This was the first one that really stuck. It kind of really started with being in the same friend group, like last year at my flat and our parties, it was the first step for our DJ and getting all of his experience through that.
Damian: Yeah, we just went from there and all we've done is really just put a name on it!
What are your plans now for Hoochie World 4?
Damian: The first thing we want to do is increase the capacity and add a bulk of bands and artists that we, as a part of Hoochie, want to listen to. As well, we want to get a bit more out of Dunedin with some of its acts.
Riley: Try to get acts that won't normally be in Dunedin
Damian: Yeah, get them on the bill along with a bunch of local bands, to kind of build the hype a little bit. So, for the fourth one, if we can get some acts that aren't Dunedin-based and be able to fund that to get them down, then hopefully by doing that, it opens up those people coming down to a new platform where they can perform. Then another idea we had was to almost have a Hoochie World greatest hits. So have all the bands, or as many possible, from these three gigs, play and try and take it upstairs into the main common room to have more capacity or possibly move it to a warehouse. That is looking to the long term so we're mainly trying to expand to the bigger spaces available to us.
In your own words, why should people care about Hoochie World?
Damian: Ok… well doesn't everybody say you don't have to care? But I think that people should care because this is just what we are doing right now. If we keep going, there will be a whole lot more with music and some totally different events.
Anthony: Just come along for the ride!
Damian: Yeah, just come on down for a party!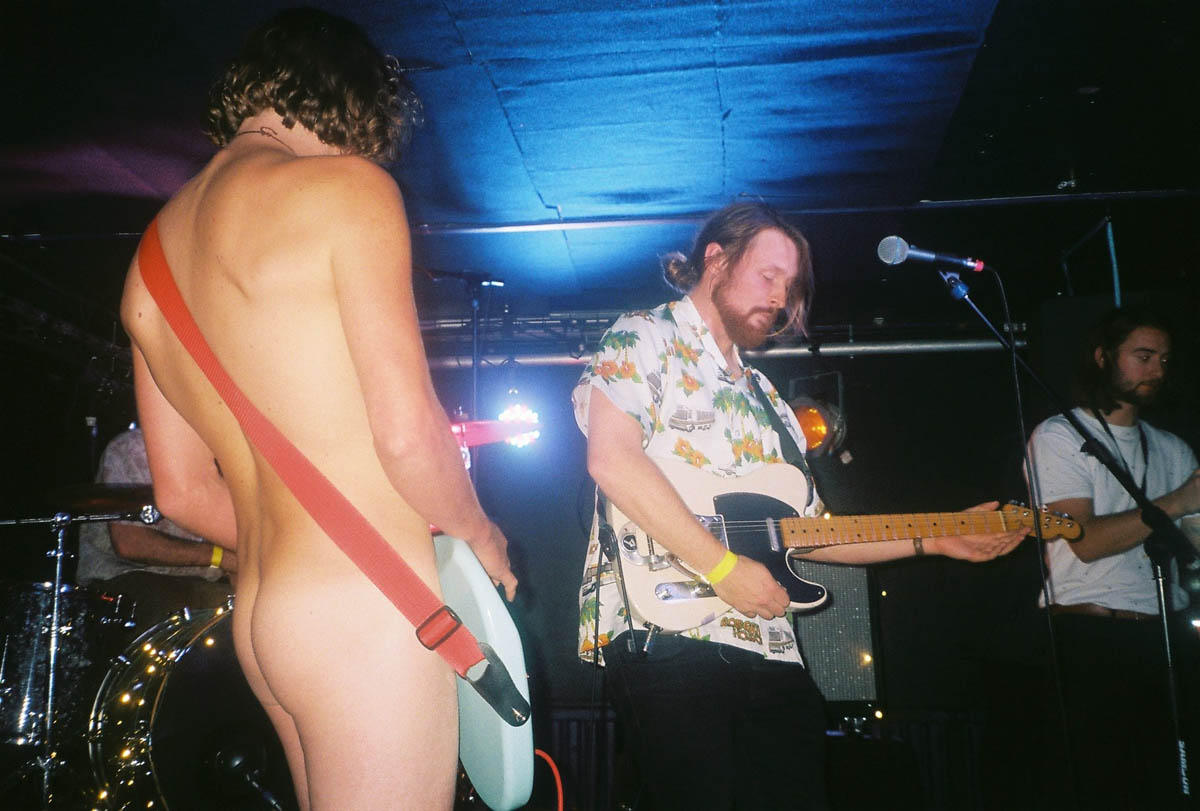 ---
Love it or hate it, the Hoochie World's events and what they have put into organizing the venue by fully immersing you in their aesthetic, elevates all the performances. This makes Hoochie World worth your while, even if you're only going for one band on their list. See you at #4.