Posted 5:01pm Sunday 25th July 2021 by Erin Gourley
Marie's* boyfriend didn't ask before choking her during sex. She was 18 at the time. "Looking back that was a red flag," she said. "At the time I went along with it and he kept doing it [whenever they had sex] so I thought, huh, this must be normal. I didn't Read more...
Posted 5:19pm Sunday 18th July 2021 by Elliot Weir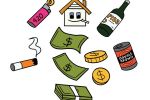 Out of interest, curiosity, and an effort to understand our audience and the wider student body, Critic Te Arohi conducted a survey over the mid-semester break, asking 50 questions that covered a wide range of topics from academics to politics to demographics to drugs. 439 people completed the Read more...
Showing results 1 - 2 of 2
TAGGED ITEMS
Showing items with the tag:
statistics