Posted 3:47pm Sunday 12th September 2021 by Annabelle Vaughan
Why the colonial concept of blood quantum doesn't define indigenous people By Annabelle Vaughan People sometimes ask weird questions, that's how life is. However, for many Māori here in Aotearoa, or any indigenous person, a common question we often receive is "so Read more...
Posted 5:01pm Sunday 25th July 2021 by Erin Gourley
Marie's* boyfriend didn't ask before choking her during sex. She was 18 at the time. "Looking back that was a red flag," she said. "At the time I went along with it and he kept doing it [whenever they had sex] so I thought, huh, this must be normal. I didn't Read more...
Posted 5:19pm Sunday 18th July 2021 by Elliot Weir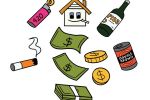 Out of interest, curiosity, and an effort to understand our audience and the wider student body, Critic Te Arohi conducted a survey over the mid-semester break, asking 50 questions that covered a wide range of topics from academics to politics to demographics to drugs. 439 people completed the Read more...
Showing results 1 - 3 of 3
TAGGED ITEMS
Showing items with the tag:
statistics