Posted 2:25pm Sunday 24th April 2022 by Sean Gourley
Most of Dunedin is a concrete and shattered-glass wasteland. The only crops that grow are a large quantity of substandard housing, liquor stores and fast food restaurants. However, there are a few green spaces that, against all odds, have managed to produce life from Dunedin's inebriated Read more...
Posted 5:37pm Friday 1st April 2022 by Fox Meyer
Human brains are not designed to sit at a desk and memorise content for hours on end, they're built to remember stories. When we stop thinking in terms of stories, we're setting ourselves up for failure. This is especially poignant in the grown-up sciences, which have traditionally felt Read more...
Posted 1:05am Saturday 11th September 2021 by Asia Martusia King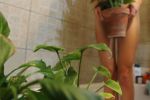 On Friday 2 September, postgraduate students and staff across Otago campuses were allocated 15-minute slots to re-enter campus and retrieve essential research material. Office plants were explicitly forbidden to be rescued. Some postgraduate students are reportedly "devastated" by Read more...
Posted 9:06pm Monday 26th April 2021 by Elliot Weir
If you expected another article about growing weed, you will be sorely disappointed. This is all about literal herbs. When? Herbs don't benefit from space heaters and alcohol blankets, so planting at the right time is the key to making sure your herbs survive the winter. Right now is Read more...
Showing results 1 - 4 of 4
TAGGED ITEMS
Showing items with the tag:
plants