Posted 2:02pm Sunday 8th May 2022 by Vega McHaffie
Winner: taurus knows libra By Vega McHaffie i would plead that when he saw me he wouldn't realise; my soul was an idea scrawled across real estate agent pads floating amongst reminders to get oat milk, to vacuum car seats after the beach, to water forgotten succulents. it was not a Read more...
Posted 2:29pm Sunday 21st March 2021 by Denzel Chung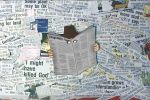 A woman who has helped to deliver newspapers to Dunedin for 45 years, employing 60 children and disabled people, had her contract ended in a single letter from the ODT on Friday. Sue Loan has worked as the distributor for the ODT for 45 years. She managed 60 people, including children and Read more...
Posted 11:33am Sunday 21st March 2021 by Denzel Chung
Outgoing Vice-Chancellor Harlene Hayne got a very special going-away gift from the University: A honorary PhD in Law. Some get gold watches or silver spoons, but not Harlene. Despite her academic background in psychology, Harlene was awarded a law degree at a graduation ceremony two Read more...
Posted 5:13pm Saturday 6th March 2021 by Callan George
There was a "small spike in egg sales" during O Week, thanks to the long-held tradition of egging freshers. A Countdown spokesperson said that they saw "a small spike in egg sales at our Dunedin stores over Orientation Week". However, they encourage people to think Read more...
Posted 6:37pm Sunday 11th March 2012 by Gus Gawn
OUSA president Logan Edgar has lashed out at claims by the Otago Daily Times's Rosie Manins that the Hyde Street Keg Party has been "marred by disorder" in previous years. The comments from Edgar came as he clinched a significant political victory, securing the future of the keg party after having Read more...
Posted 6:37pm Sunday 11th March 2012 by Gregor Whyte
The Otago Daily Times was so delighted by the appearance of the Sun in the Dunedin skyline last week that they put an article to that effect as the lead story on their website. The short article was entitled "Strange excitement as sun appears above Dunedin", and did not state who authored Read more...
Showing results 1 - 6 of 6
TAGGED ITEMS
Showing items with the tag:
odt