Posted 8:43am Sunday 10th October 2021 by Fox Meyer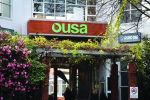 OUSA's Blues and Golds awards are "in recognition of the sporting, cultural and service achievements of current University of Otago students," said still-president Michaela Waite-Harvey. This year, Laurel Hubbard took home Best Sportswoman. Strangers on the internet, who Read more...
Posted 2:57pm Sunday 5th September 2021 by Erin Gourley
The OUSA Exec was given a taste of social media access and now they want more. During the first few days of lockdown, they were given access to OUSA's Instagram and Facebook in order to promote the Exec election. Just a little bit, as a treat. That meant that the elected students on Read more...
Posted 10:50pm Sunday 1st August 2021 by Fox Meyer
Critic collected eight stranger's search histories and psychoanalyzed them, using an expert Geology student, to predict who searched for what. Then we checked the correct answers. Here's how we did: (Our speculation in regular font, correct answers in bold) Looks like this Read more...
Posted 4:27pm Sunday 18th March 2012 by Gus Gawn
Students will no longer have access to websites deemed "objectionable" by the University's IT services. In addition to preventing acess to pornography and sex advice, finding lulz has also been hindered by the policy. Critic was first alerted to the change after attempts to access morally Read more...
Showing results 1 - 4 of 4
TAGGED ITEMS
Showing items with the tag:
internet