Posted 3:11pm Sunday 22nd August 2021 by Asia Martusia King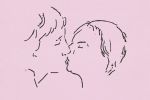 CW: Homophobia. Students were a "driving generation" in queer liberation, says Chris Brickell, Professor of Gender Studies and LGBT historian. Otago University was no exception. Here's an abridged history of our forebears and Read more...
Posted 4:53pm Sunday 4th March 2012 by Zane Pocock
Iím one of the lucky ones. No matter what my sexual orientation turned out to be, my parents said they would always accept me. I donít really have any desire to know whether I received this reassurance because of my interest in fashion or complete disinterest in Barbie-like bimbos, but it was Read more...
Showing results 1 - 2 of 2
TAGGED ITEMS
Showing items with the tag:
gay