Posted 12:46am Sunday 14th March 2021 by Susana Jones
If you're anything like me, you're perpetually hungry, but you're also a hopelessly broke student. You don't have enough time to prepare anything to eat between meals, and are too broke to simply run to the local New World or dairy and grab something quick without it putting Read more...
Posted 2:08pm Tuesday 2nd March 2021 by Annabelle Vaughan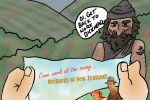 With the borders at a close thanks to the ripper of a year that was 2020, orchards across New Zealand cried out for help. Many Otago students answered the call to be a "Harvest Hero" and embarked on their agricultural adventure. For some, it didn't turn out to be the experience Read more...
Posted 4:11pm Tuesday 2nd March 2021 by Erin Gourley
Orchards called on uni students to make money picking and packing. Students were not prepared for the exploitative working environment they walked into. When students set off for the orchards of Central Otago and beyond, it had been a rough year already. A lot of businesses limited the Read more...
Showing results 1 - 3 of 3
TAGGED ITEMS
Showing items with the tag:
fruit