Posted 2:47pm Sunday 18th July 2021 by Erin Gourley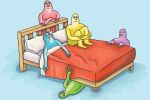 Living in a twin room might seem like your worst nightmare, but you do save a lot of money compared with the usual price of living in one of Otago's residential colleges. "I can't image paying full price," said Carolina*, who lives in a twin room in Aquinas. She only Read more...
Posted 5:44pm Tuesday 2nd March 2021 by Alex Leckie-Zaharic
In an effort to house two hundred more freshers than last year, the University has adopted an American college-comedy staple and added 11 twin rooms across multiple halls, including UniCol, Arana, and Aquinas. In response to the influx of students, Stephen Willis, the Read more...
Showing results 1 - 2 of 2
TAGGED ITEMS
Showing items with the tag:
aquinas