Posted 1:05pm Sunday 17th September 2017
Rating: 4/5 Marvel Entertainment's latest Netflix release offers a miniaturised street level version of the Avengers in the form of the Defenders. Daredevil (Charlie Cox), Jessica Jones (Krysten Ritter), Luke Cage (Mike Colter) and Iron Fist (Finn Jones) make up the roster, following their Read more...
Posted 2:06pm Sunday 3rd September 2017
Rating: 2.5/5 I found Okja to be less of a revolutionary film exposing the capitalist meat industry and more of a low ruckus. The cast boasts such powerhouses as Jake Gyllenhaal, Tilda Swinton and Lily Collins, all of whom create vibrant and intriguing performances. Even the young talent, the Read more...
Posted 1:02pm Sunday 28th May 2017
Rating: 5/5 A Dog's Purpose is one of the most sentimental films I have seen in a while, for the pure and obvious fact that it contains dogs and dogs dying and living and just, doggos. Taking place from the 1950s to the present day, it follows a dog, narrated by the wonderful Josh Gad, who Read more...
Posted 1:19pm Sunday 7th May 2017
Rating: 4.5/5 As an avid Batman fan, or Bat-fan, viewing the Dark Knight in all his glory as a brooding LEGO figure was quite the treat. It was fraught with references from both on-screen and comic book depictions of the Caped Crusader, with some very sly ones for those who have extensive Read more...
Posted 1:09pm Sunday 7th May 2017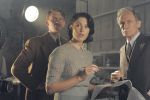 Rating: 3.5/5 To call Their Finest a British comedy, as many reviews have, is difficult, as it doesn't provide the classic, almost slapstick, comedy that one associates with British comedy. But there is still that hint of sentimentality whenever the British signature shines through. The Read more...
Posted 12:26pm Sunday 21st August 2016
Rating: A- Suicide Squad, directed by David Ayer, follows a group of supervillains from the DC Comics universe as they are captured and forced to save the world in return for shortened sentences. It boasts an all-star cast lead by Will Smith as Deadshot, Jared Leto as the Joker, Margot Robbie as Read more...
Posted 12:23pm Sunday 7th August 2016
Rating: B Demolition directed by Jean-Marc Vallee tells the story of investment banker Davis Mitchell (Jake Gyllenhaal), who tragically loses his wife in a car accident, and follows the essential grieving process that follows. What starts as a complaint letter to a vending machine company turns Read more...
Posted 12:35pm Sunday 17th April 2016
Rating: A+ Disney's The Lion King brought a whole new generation into the world of heart-crushing, soul destroying feelings over a death in an animated movie. Mufasa's death (I would say spoiler alert but I mean, c'mon) to me is one of the most emotionally heart-wrenching pieces Read more...
Posted 12:07pm Sunday 3rd April 2016
The smell of makeup, face paint and coloured hairspray fills the air. Masses of people are all flocking to one place for a day of excitement, laughter and all out craziness. For those of you thinking these are the sights and smells of the annual Hyde Street party, you are sadly mistaken. We Read more...
Showing results 1 - 9 of 9
Samuel Rillstone
Contributor