A recent multinational study has confirmed what we all knew anyway — that there is still a massive problem with homophobic behaviour in sports. Australians are leading the way in tackling this issue, and there are calls for New Zealand to follow suit.
The Australian Sports Commission has sponsored the Anti-Homophobia and Inclusion Framework for Australian Sports, which has been embraced by all of the governing bodies of the top Australian sports leagues. The framework aims to "ensure the eradication from sport of all forms of homophobia, including discrimination, harassment and bullying towards gay, lesbian and bisexual people" and recommends a code of conduct and a variety of measures for sportspeople not adhering to its guidelines.
Several players have recently run into trouble under these new rules, most notably new Warriors signing Isaac Luke, who was fined $10,000 for an angry Instagram rant where he called a group of trolling Bulldogs fans "poofters" among various egregious grammatical errors. He has deleted the post. Luke was sticking up for a Rabbitohs fan who was beaten up during the game, but he also has the Instagram name of "bullyluke14", which sends quite the mixed message.
In a more serious incident, Waratahs flanker Jacques Potgieter was also fined $10,000 after several on-field incidents of sledging players by calling them "f***ots" in a game against the Brumbies. David Pocock, an official ambassador of the anti-homophobia framework, complained to the referee, which led to Potgieter's penalty and his inevitable grovelling for forgiveness on social media.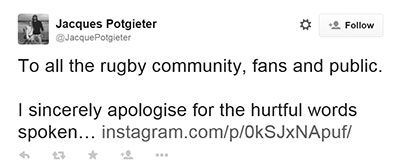 Potgieter had previously completed the ARU "Integrity Training" and has since undergone additional "awareness training" as part of his disciplinary process. Pocock congratulated him for owning up and doing his bit to make amends when he helped at training with the Sydney Convicts — an inclusive and openly gay local rugby team.
Unfortunately, Pocock copped some flak for "not addressing the issue privately", with some conservative media saying it "set a dangerous precedent" and a former player suggesting that his outspoken stance has ruined his chances of captaining the Wallabies again — something that coach Michael Cheika quickly rubbished.
An incident a bit closer to home came during the Highlanders vs. Sharks game in Dunedin a few weeks ago when veteran play-by-play man Tony Johnson made a crude remark about Olympic gold medallist Bruce Jenner over his recent "coming-out" as transgender when the camera focused on some lads in the Zoo wearing dresses.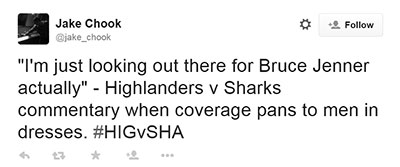 You could give the goofy commentator a pass for an attempt to include a topical pop-culture reference, but it does highlight the default attitude that many people have which is to make a joke of these situations rather than treating them as the important social issues that they are. While the issues of gender and sexual preference shouldn't be conflated, it is interesting to note that the Australian anti-homophobia framework does not specifically mention transgender people in its mission statement.
Homophobic discrimination is a worldwide problem and is arguably even more systemic elsewhere than in Australia and New Zealand. In 2014, American football player Michael Sam became the first openly gay player to be drafted into the NFL when he was signed by the Missouri Rams. Sam courted a lot of unnecessary controversy for kissing his boyfriend during a live interview. A gay kiss and an interracial gay kiss as well, caused many heads to explode in the more conservative and secessionist-minded areas of the United States. No surprises that the notoriously homophobic Westboro Baptist Church staged a protest at an event attended by Sam.
Despite the initial positives of this story, Sam ended up being dropped from the Rams before being picked up and then dropped again by the Dallas Cowboys — all without playing a regular season game. He went on to appear on Dancing with the Stars. We don't know whether Sam's public coming out had anything to do with him being cut. Maybe the teams felt the PR and internal politics would be easier to handle without having an openly gay player or maybe he just didn't make the grade — despite being named best defensive end in the 2013 All-American College team. You can decide for yourself what really happened.
A BBC survey of 3000 18 to 29-year-olds found that 49 percent of young people think it is acceptable to use the term "that's so gay" in the context of referring to something negative. This is not dissimilar to what Luke and Potgieter said, and is possibly even worse as it is not targeted at a specific person but is rather a broad-brush defamation of a large part of society.


Luke and Potgieter were made examples of to help fix the problem by first admitting that there is a problem. However, it should be noted that (unlike in New Zealand) same-sex marriage is still outlawed in Australia despite several attempts to pass positive legislation in this area over recent years. Can you take the anti-homophobia framework as seriously when this is taken into account?
Unfortunately, attitudes in sport (or in schools, the military, corporations) reflect society as a whole. Although great progress has been made on equality and acceptance of the LGBT community, the world has still not ridden itself of other entrenched racial and gender discrimination.
Professional athletes are highly influential role models, and initiatives like the anti-homophobia framework introduced in Australia should go a long way to help tackle this problem. The sportsfield is an ideal place to take another positive step on the road to equality.