In a day of dual protests, OUSA members marched on the office of local Labour MP David Clark and Tertiary Education Union (TEU) members headed to the Clocktower. University admin received plenty of blame for their current financial woes, but most critiques and calls for action were directed at Government.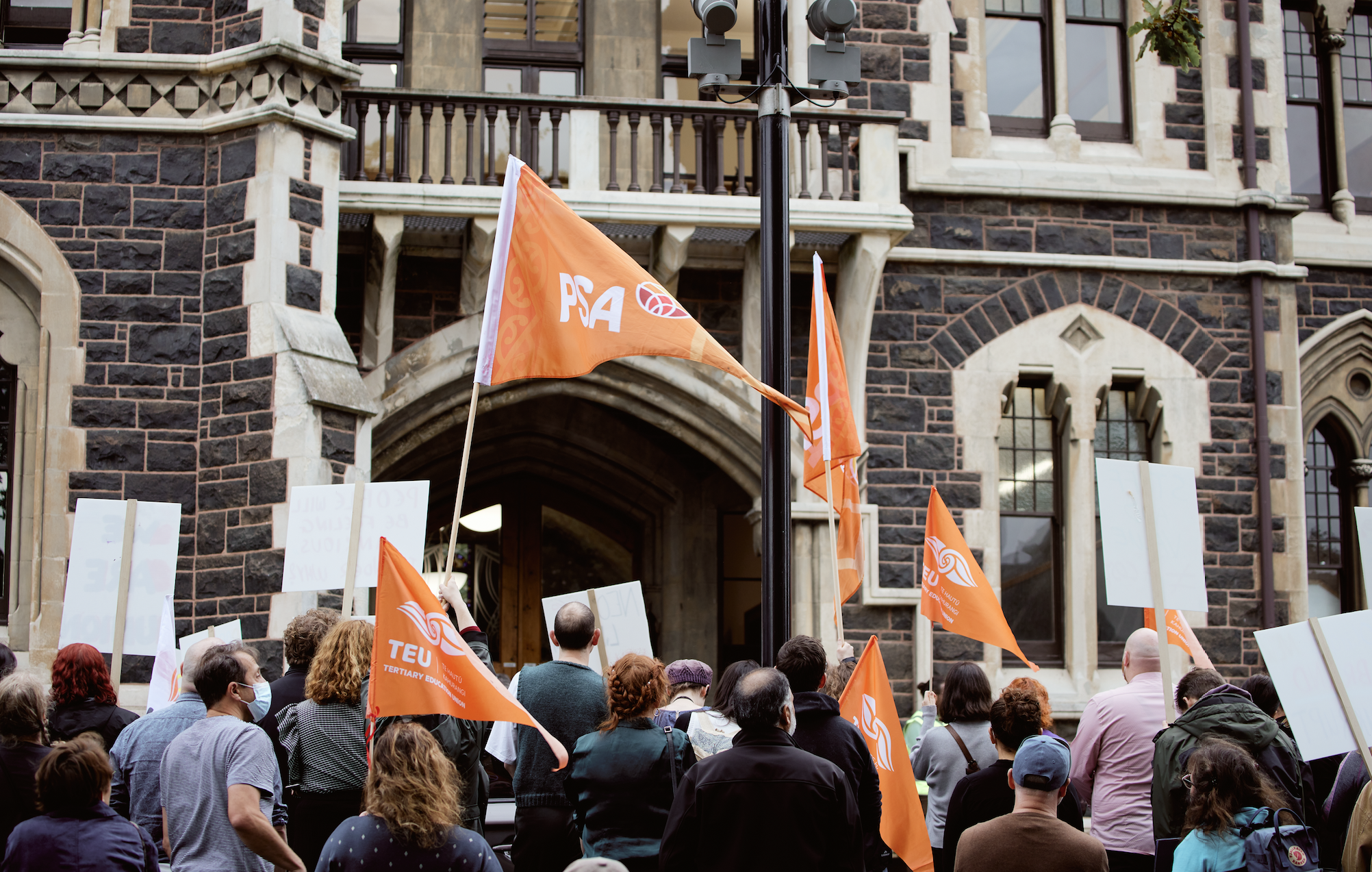 OUSA launched a protest at 10:30am this morning, Tuesday May 9, calling for better funding for the Uni and support for students. With the Uni's $60 million deficit and impending staff cuts, and nine days ahead of the NZ budget announcement, their attention has turned to a Government that has failed to match Uni funding with rising inflation.
Quintin Jane, OUSA President, openly criticised the efforts of the Government which, in his words, were "not good enough." Speaking to the student psyche, Quintin said, "We're sick of being told that it could be worse." With these words at heart, around 100 students marched alongside OUSA's student executive team to the office of David Clark who, in the eyes of protesters, has failed to deliver on promises to support tertiary education.
The march was spurred on by chants such as, "Without the University, Dunedin's just a town." While students were the central force driving the event, protestors were escorted by two police officers who blocked off the road as students crossed, and a myriad of passing cars beeping in whole-hearted support. Dunedin's deputy mayor, Sophie Barker, was also in attendance.
Protestors were disappointed upon arrival to find that David's office was closed for a "staff training day." David himself was apparently sitting as an MP today, but the lack of other staff in the building was noticed by students. Still, spectator comments ranged from "Who is he supposed to be training?" to "How cowardly can you get to be scared of a bunch of students?" to "Yeah, okay, fair. But this still looks bad."
David is expected to be seen around campus a lot more often, as he's actually just taken a job in the Clocktower as registrar. The former registrar will stay on the payroll, though, in a newly-created position. An OIA for the salary of the registrar position and the hiring process has been submitted.
The fact that David wasn't present did little to dampen spirits, and in fact bolstered student resentment towards the Government. One said that it showed their "continued efforts to stay ignorant." In a true David and Goliath story (though David represented the Goliath in this case) the battle's victor could be determined at the unveiling of the nation's budget in nine days' time. Without adequate funding from the Government, the University's financial woes could turn from bad to worse, affecting hundreds of careers.
At approximately 11:15, Quintin formally disbanded the protest, not before urging students to "Write to your MP, write to your Government…Tell them you care about this university." At noon, a protest organised by the TEU rallied several hundred University staff in another march to the Clocktower. Academic staff said that the decision to cut jobs and an inability to weather Covid's financial storm suggested that managerial mistakes had been made, and they felt like the burden of those mistakes was falling on the wrong shoulders.
Multiple staff members in attendance did not want to be named in this article, citing fear of repercussion from the Clocktower if they were to criticise it openly. "How can you over-budget in the middle of a crisis? In the middle of a pandemic? That's living completely outside of reality," were comments made by one staff member, with another saying that "the University has options, and cutting staff is the worst of those options."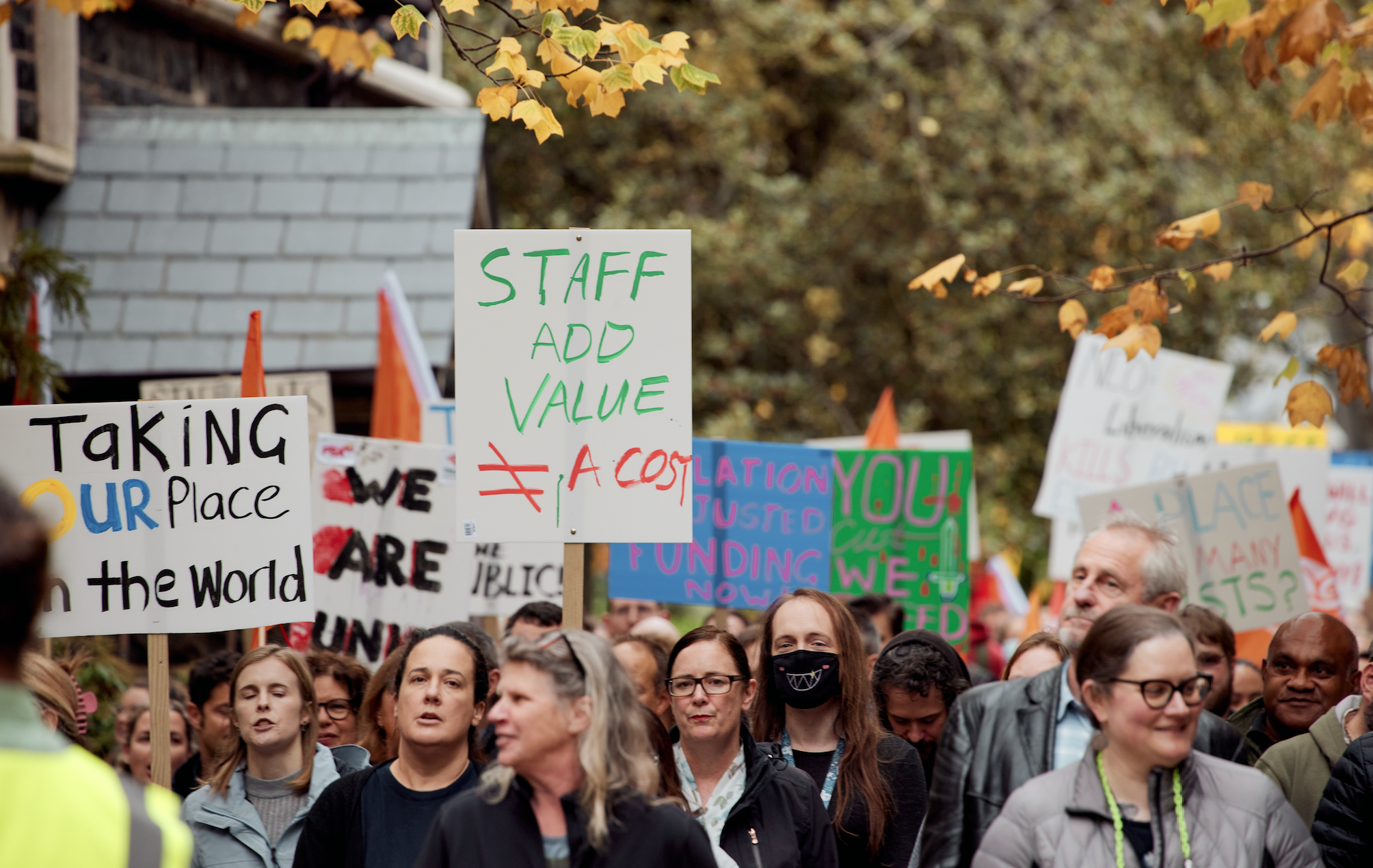 Students at the morning's protest agreed that staff cuts and resulting paper cuts did little to entice new enrolments, a sentiment echoed by prospective students just a day earlier. "It feels like every year I come back and there's one less paper in my course," said Jack, one of the students at the morning protest. "The Government definitely needs to step up and provide funding." OUSA Welfare and Equity Representative Kaia agreed, "As an OUSA executive I'm concerned for the future of the University, and as a second-year student I'm concerned with the impact these changes will have on me personally."
Kaia was reminded of the '90s Clocktower protests, which came after the introduction of Uni fees: "Look at how much worse it's become." Kaia's words hark back to a pre-neoliberal dream state in which students who attended University were not forced to shell out thousands for an average-sized piece of paper. Due to the privatisation of tertiary education across the country, the University of Otago's fate now rests in the hands of unpredictable enrolment numbers and staying competitive in a declining market.