Ah, the riceball. There is nothing intrinsically special about a riceball. It is but simple ingredients, tucked in a pod of rice shaped into the simplest possible shape. However, there is something special about the riceball at the same time. It's a quick lunch you could grab on your way to doing bigger and better things, and holds within its curve the potential for both greatness and intestinal cramping.
There's been what seems like a citywide increase in the price of rice balls over the past year. And while the economy is certainly fake, riceballs are not. We have balanced the cost, taste, and general vibes of several of our ball options, reviewing one chicken and one vegetarian riceball at each location. Welcome to the Riceball Review of 2022: let's get spherical.

Tokyo House
Now Tokyo House might have been done a bit dirty on this one. The House de Tokyo has two main draws, both of which were not included in the review stats due to the parameters of the study. First of which is the fact they sell a salmon avocado riceball for the same price as all the other riceballs. Second is that they have an incredible spicy, and maybe homemade, sauce that is available in store. Both of these are absolute bangers.
Both their crispy chicken and veggie riceballs were pretty decent. The ratio of substance to rice could've been higher, and the chicken was sort of bland in flavour. There was avocado in the veggie riceball, but not nearly as much as Great King St Sushi. Think of it as the Captain Marvel Brie Larson of riceballs. You want to like it, and you do to an extent, but there's always just that spice missing. The rice, however, is Brie Larson in Scott Pilgrim. Absolutely fantastic, zero flaws. The weight-to-cost ratio was more mediocre. Not the best, not the worst. You want to see more from Brie Larson because you're curious, and know she can do better than the circumstances provide. Same goes for Tokyo House.
Vibes: Vibrator dying right before you finish.
Gram per Dollar: 61.8 (chicken) & 58.2 (veggie).
Overall Rating: 6.5/10.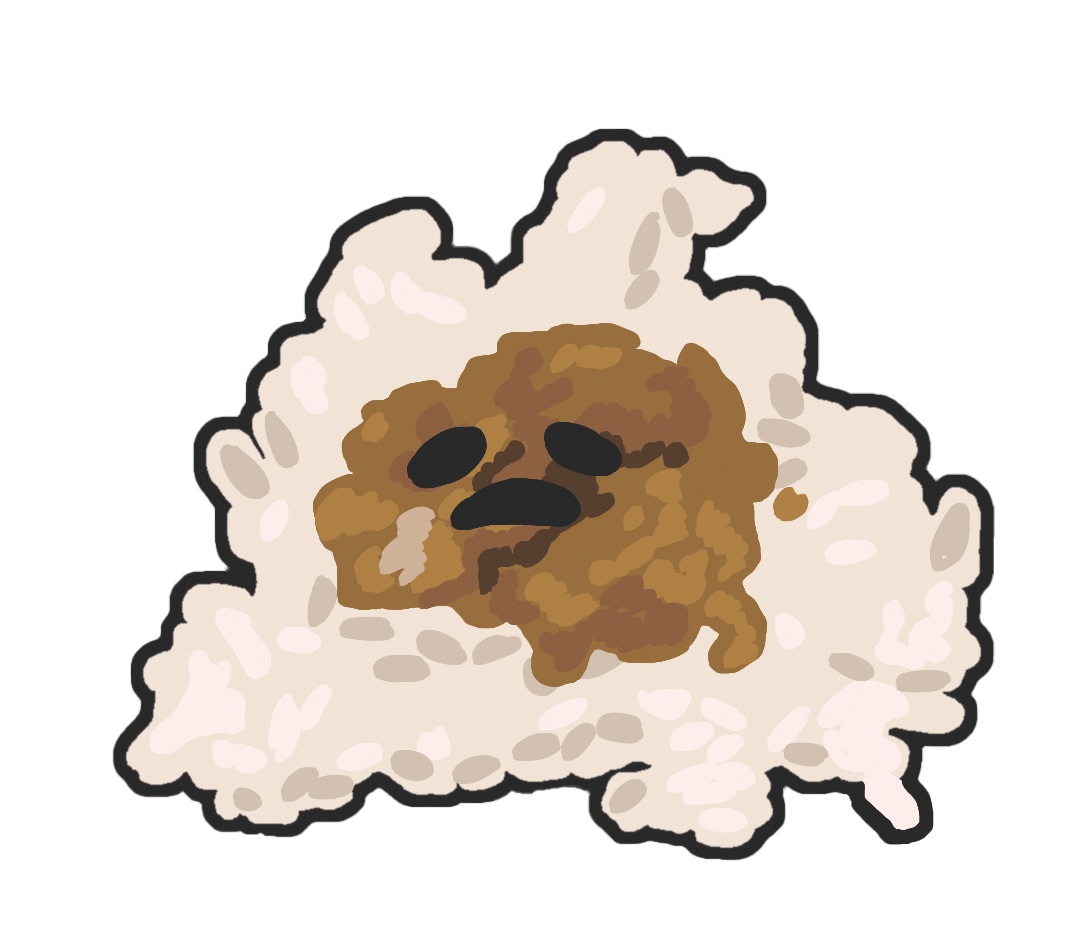 Sushi Mall
If you haven't been to Sushi Mall before, try it. You'll be absolutely shocked after the kind woman rings you up for $7 for a single riceball. Is she really that kind with prices like this? What could possibly be the reason for it costing so much? It's the fact that this absolute tumour of a chicken riceball weighs in at 695g. This riceball alone could feed half of an overworked post grad office, with everyone being satisfied. The chicken was just fine with a decent ratio. However, not included in this review was the fact you can ask for extra sauce and/or split the composition of the riceball to include two types of chicken, part crispy and part teriyaki which goes harder than that first time you discovered Sub's outdoor DnB stage.
Now the veggie rice ball came in at 443g which is drastically lower. The weight of the ingredients were not weighed out individually, but at least 1/4 of this came from grated carrot. On one hand, it adds moisture, but on the other hand, what the fuck. Grated carrot does not provide for easy munch-ability and it can be relatively tasteless. Speaking of tastelessness, it costs an extra $1 to get avocado. That's right - there's no free avocado in the veggie riceball. I would rather have someone shit on my car hood than pay an extra dollar for avocado on my veggie riceball.
Vibes: Shaq holding a basketball (human to spherical object size ratio).
Gram per Dollar: 99.29 (chicken) & 63.28 (veggie).
Overall Rating: 7.5/10.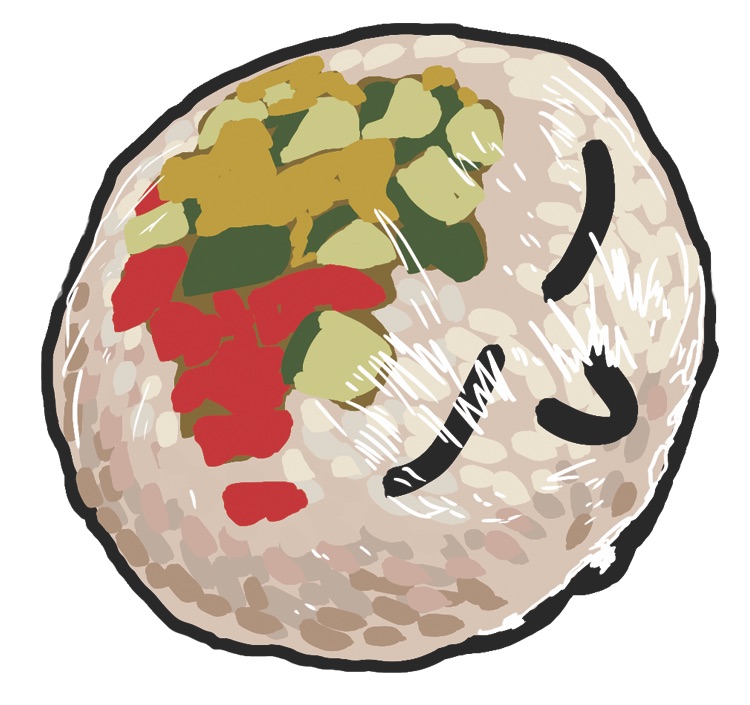 Sushi Great King Street
Sushi Great King St, the one across from UBS, was an underdog. We didn't even know it was called Sushi Great King St until we reviewed this, and I'm willing to bet you didn't either. But holy moly do they know how to do a crispy chicken riceball. The chicken was juicy, filled with enough flavour to make Guy Fieri think he was in his hometown. It was the star of the show, but one reviewer noted that the ball had the "kind of rice you take home to your mum". The chicken riceball is second lowest for cost/weight ratio, but almost makes up for it with how seriously delicious the chicken is.
The veggie riceball on the other hand seemed like an afterthought. The diced vegetables are not convenient to have on the go. While the avocado is somewhat redeeming, how much can one pod of green creamy goodness really do? The other ingredients are fine, but since they're diced, I'm giving zero attention to them. Be julienne cut or be nothing.
Vibes: Flavourtown USA, now moved to North Dunedin.
Gram per Dollar: 61.27 (chicken) & 59.27 (veggie).
Overall Rating: 8/10.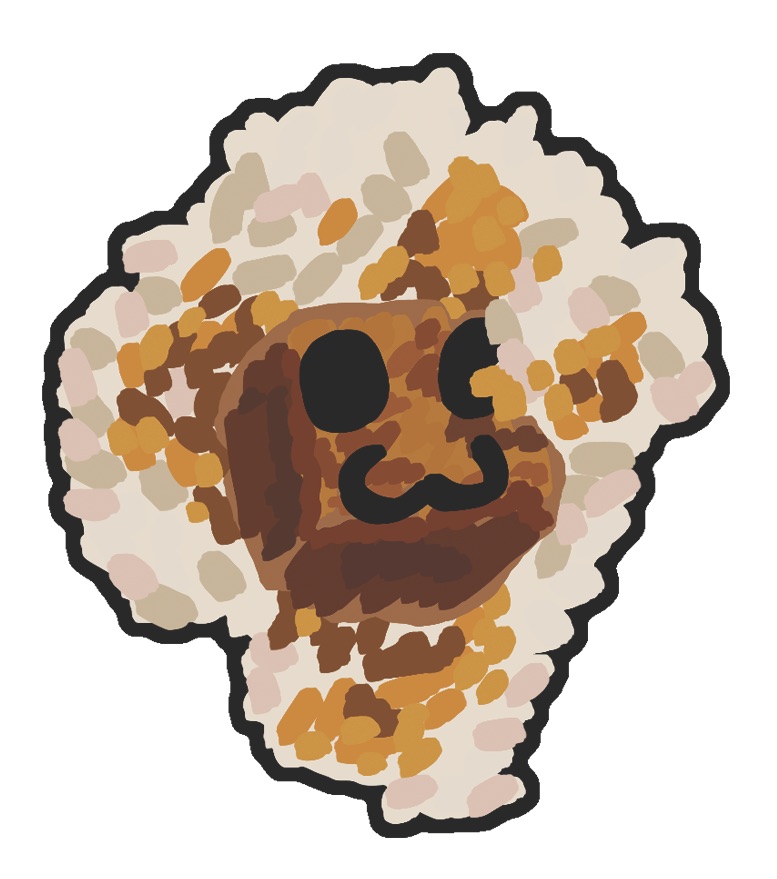 Miga Hako
Miga Hako truly fills a niche that no other place can. Anywhere can do crispy chicken with mayo and wrap it up in a nice rice blanket. But Miga Hako goes that extra step to give you flavours like honey butter chicken or sweet chilli cauliflower, which were the ones tested for this very serious food review. The honey butter chicken caught everyone by surprise. One reviewer claimed this to be a "dessert rice ball" as it was more sweet than every other one. It was a different flavour profile, with rice that was maybe a bit too vinegary. However, as they say, vinegar is in the eye of the beholder, or something like that.
The sweet chilli cauliflower rice ball really shows their effort towards everyone, not treating veggie eaters as a mere second thought. The ratio of cauliflower to rice is splendid. They also are the highest weighing veggie riceballs and best value, further showing the love and craft put into them. These rice balls are so good it feels like Richard, the Dave from Maharajas of Korean Food, perfectly crafts it for you and you only. Honestly this could be true, he is such a king. Please return my calls Richard, I'm so sorry, I know I messed up.
Vibes: Radio1 of Riceballs.
Gram per Dollar: 93.75 (chicken) & 91.75 (veggie).
Overall Rating: 8/10.

Sushi Station
Sushi Station is the epitome of ol' faithful. It taunts anyone who sits in central library across from it, just begging you to come in for a cheeky sushi lunch. The crispy chicken weighed in at 257g, the lowest of all of them. However, the rice to chicken ratio sat at presumably 50/50, so you might be getting more chicken than the other spots. Albeit dry, the chicken would be good with soy sauce. It's not the riceball you want, but it's the riceball you deserve. Maybe if you actually did the required readings for any of your papers, you could treat yourself to a $7 riceball, but no.
The veggie riceball, however, showed more promise with a filling of teriyaki tofu. They were big chunks of tofu in a deliciously sticky sauce that anyone could appreciate. The extra care towards vegetarians feels surprising from a quick food shop, similar to a one night stand actually giving a shit about aftercare. You deserve the aftercare, don't settle. However, it weighed in at 278g as the runt of the riceball litter.
Vibes: 1999 Toyota Corolla.
Gram per Dollar: 51.40 (chicken) & 55.60 (veggie).
Overall Rating: 7/10.

Winner Categories
Best chicken: Sushi Great King Street
Best veggie: Miga Hako
Best value: Sushi Mall Chicken