Archive
Posted 5:57pm Monday 24th July 2017 by Critic
Everyone loves a reason to be weird, so why not make the most of the plethora of wacky special days of the year out there. Monday 24 –Tell An Old Joke Day Why did the mushroom go to the party? Because he was a fungi. What do you call Monday 24 July 2017? Tell An Old Joke Read more...
Posted 5:43pm Monday 24th July 2017 by Charlie O'Mannin
This week the ODT had a stern word with their neighbours about the recent noise complaints made during one of the ODT's all night bangers. One ODT employee was overheard yelling, "You can't go to the media, we are the media". Suddenly, something mysterious Read more...
Posted 2:32pm Sunday 23rd July 2017 by Chelle Fitzgerald
Try to hold your breath as long as you can. How'd you go? 1 minute, 2? Pathetic. You've a long way to go, sport. The record for static apnea, also known as holding one's breath, currently stands at a casual 11 minutes 54 seconds, and is held by Serbian Branko Petrović, who Read more...
Posted 2:28pm Sunday 23rd July 2017 by Leah Macpherson
Practised fingers pluck each chord, the melody a fresh wave splattering sea water on the assembly of the elements Quick movements on multiple strings conjure the wind, a deep rumble, gusting southerly heart break Head tilts into the eye of the storm, eyes closed, mouth Read more...
Posted 2:22pm Sunday 23rd July 2017 by Swilliam Shakesbeer
It's hard to review Speight's. It has so much meaning to so many people. It was the first beer my father ever gave me. It's the beer that has fuelled Scarfies for generations. Would I say it's the tastiest beer in the world? No. But it's the beer that makes me think of Read more...
Posted 2:03pm Sunday 23rd July 2017 by Lovebirds
Each week, we lure two singletons to The Bog Irish Bar, give them food and drink, then wait for their reports to arrive in our inbox. If this sounds like you, email: critic@critic.co.nz Pac Man I arrived at the Bog (such a masculine bar for two gay guys to meet!) respectfully Read more...
Posted 1:57pm Sunday 23rd July 2017 by Student Support
Hey there Ethel and Hyde, My flatmate reversed over my bag yesterday and now my laptop and my glasses are broken to the point they are completely unusable. I don't have any insurance, and neither does my flatmate. I need both of those things to study! Please help. Ethel and Read more...
Posted 1:53pm Sunday 23rd July 2017 by Jon Anderson
He clung to the cold roofing iron and surveyed the land around him. It was clear but for the fog. He couldn't see any movement among the old, tall buildings that sat, half-crumbled and smoking, and where he'd once been a student. His arms ached. He'd been up here all night. He Read more...
Posted 1:43pm Sunday 23rd July 2017 by Mat Clarkson
"Music is a higher revelation than all wisdom and philosophy." - Ludwig van Beethoven Music is one of the many languages of the human soul, but, as Herr Beethoven points out, its profundity is surely of the highest order. This week I have been in contact with a local Read more...
Posted 12:47pm Sunday 23rd July 2017 by Charlie O'Mannin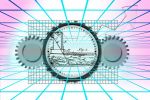 5/5 Burial is one of the greatest achievements of humankind, so great that once someone has achieved it they rarely feel motivated to do anything else. Just consider what life was like before burial; we had dead bodies lying all over the place. They were everywhere: on the beach, in the Read more...

Previous Results
Next Results

SHOW: